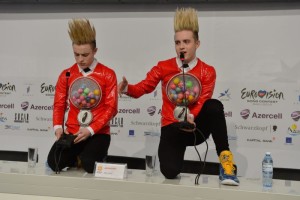 With the first semi-final just days away, the pace in Baku is unrelenting as delegations continue to rehearse and hold press conferences. Today, 13 countries had to go to work in The Crystal Hall in preparation for the big day.
First up was one of the most popular acts in Baku, Buranovskiye Babushki from Russia. They told a crowded conference room that the song is not quite as old as they are. "We have our own producer, and we worked with her for three years, and she made a suggestion of another songwriter and that's how it started."  They were asked what they were missing most about their village home. "The farm" came the reply.
Hungarian band, Compact Disco, was the second act to take to the stage. They seemed happy enough with how their rehearsal had gone. "Fabulous, it was perfect today, the lights, sound, visual effects. The only thing that was missing was the audience….we are waiting for them." The video of the song is quite evocative but it was the second tat was made. The first one featured a slideshow of important events from 2011, but they were told that this was too political and were asked to change it.
Austrian rappers, Trackshittaz, opened their conference with what could be described as a more conventional version of their song, which included an accordion and a spot of yodelling. Some journalists thought that today's rehearsal was less sexy than the first one. "If it looked like that to you, we definitely should work on it! But this was only the second rehearsal, there is still a way to go till the Semi-Final, and we promise you a sexy show there."
Moldovan singer, Pasha Parfeny was another singer to sing his entry at the press conference, giving an acoustic version of Lăutar.  He has fairly high ambitions of his participation; he wants to finish in the top ten in the final.
The brothers Jedward didn't have to say too much at their conference. Such was the interest in their jackets, which was almost a slot machine full of gum – a reference to their 'bubble-gum pop style perhaps – that by the time the photographers had finished, there wasn't much time for anything else.
The slightly more subdued Serbian conference kicked off with a sign language version of Nije Ljubav Stva. Željko is quite relaxed about following up his very successful previous participation in 2004, where he came second. Lane Moje was also voted the favourite Eurovision song of all time in a poll last year for ESC Radio. "I grew up with the Eurovision Song Contest, as I represented Serbia in 2004, the first participation after twelve years of absence, and since then, I have loved the contest. Of course the contest has changed since then – the main difference now is that I already know all the entries. But I am not afraid about anything, I'm enjoying it"
Kaliopi from Macedonia was asked what is probably the most commonly asked question at press conferences, what are your hopes? "I'm always happy for every good performance, for personality. That makes me feel better. I feel so many things when I come here in Baku, but never pressure, because it's very nice to know you are sharing the stage with many other good artists."
The Dutch entry, performed by Joan Franka was the next song to rehearse. At her conference afterwards, Joan said what she thought of it. "It was good. The sound was good." She will release an album after the contest and, like You and Me, the songs are quite personal. "Yes, music is my diary, my life. The songs are similar to the Eurovision entry in a happy sense. There are some folk songs and some ballads."
Maltese singer, Kurt Calleja, will were a single glove next Thursday. He explained that this is a fashion statement; he doesn't usually worry about fashion trends.
Belarus will be represented by the band. Litesound. They are enjoying their unexpected time in Baku. "We are enjoying the sun here in Baku, we are always partying. We're having a great time." They have no plans to split the band up just yet. . "We are the most popular rock band in Belarus now. Together we are strong, and we are taking the next step now."
Portuguese singer, Filipa Sousa, knows which direction she wants her career to take. "I'm not yet a well-known singer, but I would definitely stick to my Fado roots." Does she think she can win? "We still hope – that's why we are here! I don't know if it will be this year, but we are doing our best, and we got nice comments before we came here. Let's see. I don't know if it's enough, but we surely hope so"
Gaitana was again asked if her song is an anthem for the Euro 2012 football tournament, which will be jointly hosted by her country, Ukraine. Although it is not an official anthem, "I'm happy that people like this song. Even if they don't understand English, they can feel the friendly emotions coming out of it. I want to show the song to the whole world."
Sofi Marinova, who will represent Bulgaria with the dance track, Love Unlimited, gave the media an idea of her outfit. "It's a white costume with soft leather, it's very delicate, it should not be touched too much. I will have various accessories in a golden colour. The idea of the costume is from the stylist, and dated back to an old tribal outfit from Bulgarian history. It is fair to say that Sofi is happy with how things are going. "The first rehearsal I was a lot more nervous as the stage was entirely new to me. Now I'm more familiar with it. Everything connected with the technical side is now perfect the second time around. I would be really happy now if I could come to Eurovision and do this every year!"
Saturday will be an interesting day. The remaining acts in the second semi-final will rehearse, but the main attraction will be the first rehearsals of hosts Azerbaijan and the 'Big 5'.