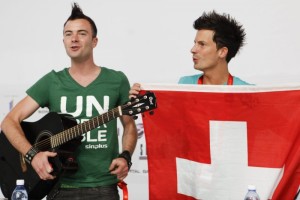 Thursday was a very busy day in Baku, with fourteen countries from the first semi-final completing their solo rehearsal schedule and conducting their second press conferences.
The mad Montenegrin was first on set.  Rambo Amadeus entered the conference and proceeded to rearrange the speakers. He is enjoying his time in Baku so far, "The people here are cool, calm, taking their time. I feel a great deal of nostalgia here."  He was asked if he felt at a disadvantage being drawn in the first semi-final as all the other former Yugoslav republics are in the second semi-final. "If your boat is too fast, you have to give a handicap to it. If I was in the other Semi-Final, I would have an unfair advantage because the people in Former Yugoslavia already know me and my humour and would vote for me just because of that. So I feel better now, being in the First Semi-Final. As to the other European countries: If I have one per mill of understanding in Europe, it would be already enough for me."
Fridrik Omar, who sung for Iceland in 2008 made an appearance at Greta and Jonsi's conference as he is in charge of press and public relations for the Icelandic delegation. Jonsi was asked what he has been up to since he represented Iceland in 2004. "I've been acting, recorded a few albums, some TV host, and had my second son and I'm now studying psychology too. I'm a bit more experienced now than in 2004."
An Australian television company is in Baku making a programme about the contest, and Greece's  Eleftheria Eleftheriou was asked if she would visit Australia one day. She replied that she has already been to down under and loved it. Does she want to win the contest or would she be happy with a good place on the scoreboard? "Yes, of course, I want to win. But I also want to enjoy it and have fun. This contest is very important because you do it only one time in your life. And I want to do it very well. I want to keep Greece in top 10."
The Latvia delegation expressed their satisfaction with the changes that have been made to the staging of Beautiful Song since their first rehearsal on Sunday.
Albania's Rona Nishliu was asked why she is alone on stage. "I'm the lyricist, and the story of my song is based on a personal experience, and so we thought it was easier to express this when I'm alone on stage." Why is she singing in Albanian? "Suus is supposed to mean Personal, as it just sounds like this to me. Music and especially lyrics goes beyond borders and races. I'm singing my song in Albanian, as I think it is more powerful and original like that"
Mandinga from Romania were in esteemed company today as their Ambassador to Azerbaijan attended their rehearsal and press conference. Did he like what he saw? Of course he did, he's a diplomat! "I was really impressed with the show of the band today, the song is great. I think we have very good chances to win the Eurovision Song Contest this year." The band was asked about their roots. "We started as a Latin jazz group, just for playing music. In all of our concerts we always have musicians; I think it is the music that has kept us together. This month we will celebrate our tenth anniversary as a group."
After starting their conference with a tune from their new album, Swiss duo Sinplus explained that they didn't know much about the contest before entering the Swiss final. "We even didn't know much about the Eurovision. It's nice experience to be here. All participants are amazing. We want to enjoy the whole time we are here." They have previously written an anthem for the Ice Hockey championships, would they do a sporting theme again? "We are big sport fans. If there is another chance to write music for the sport events, then why not."
From Switzerland to Belgium and Iris. She was asked what her favourite songs from the contest this year are. She declined to say which she liked the most, but did treat the journalists to a burst of Russia, Switzerland, Denmark, Sweden and Ireland, and Albania. She was also asked what her favourite Belgian song is. Je T'adore by Kate Ryan from 2004 got her vote.
The Finns have changed the background on the video wall for their performance and Pernilla is happy with the change. "Yeah, we are happy. Now it feels better with the background, it's more emotional." She was asked about her outfit for the big night. "I was still wearing a jacket over the upper part of my dress today, and I will only reveal it in full on the Semi-Final night – so it shall remain a secret till then."

Because of their late arrival in Baku, the Israeli delegation did not host a press conference after their first rehearsal, so today was the first opportunity to speak to them. The group's unusual name, Izabo, was the subject of one of the questions. "It was the name of Michelle Pfeiffer in the film Ladyhawke, Lady Isabeau. Shiri liked that name and took it for the name of the band, with a different spelling." The Head of Delegation was asked about the chances of an Izabo victory next Saturday. "We count on the viewers and we hope for the best. We know there are problems with juries where countries buy votes. We do not buy points. We play fair. We would be pleased to host it if we did win, this time Tel Aviv would be the place we would hold it. Last time you enjoyed Jerusalem, so we want to win just to have you as guests in Tel Aviv!"
Ralph Siegel was again asked about the necessity to change the lyrics of the San Marino song. He said "We got the message from the EBU right after we entered the song. It sounds like a commercial message, they said. It was a big problem for me, as I was out of town, and we didn't have much time to change it. But now we are really happy to be here."
Small countries often face a challenge when called to host the Eurovision Song Contest, but the head of the Cypriot delegation as an interesting idea. There was a suggestion that CyBC would host an open air contest on the beach.
The day (finally) drew to a close with the Danes. Soluna Samay was asked about the differences between singing in the street and singing on the Eurovision stage. "Being a street musician is far more natural for me because I have been doing it since I was five years old. At a concert people maybe pay an entrance fee and have certain expectations so there is more pressure." On Monday, she rehearsed in what was presumed to be her official outfit. However, today saw a change of costume. "I was jealous that the others on stage were changing their outfits all the time and I wanted a change."
Tomorrow sees the remaining four countries in the first semi-final rehearse, along with eight of the countries in the second semi-final.