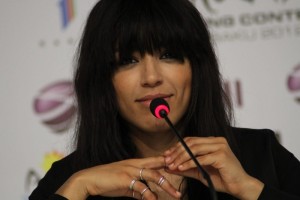 By the end of the day, all the acts competing in the second semi-final next Thursday had had their first rehearsal and had also faced questions from the accredited journalists.
First on to the stage was the youngest singer in this year's contest, Eva Boto from Slovenia. One of the first questions was about the hats used by the backing singers at the Slovenian final. We learned that these will not be used in the semi-final. Eva confirmed that she will be singing in her native Slovenian, "It feels great to share a piece of our culture, and this works best when I'm singing in Slovene"
Neighbours Croatia were next to take their turn on the stage. It seems that Nina has had her wish come true – just! "This is something extremely new for me in my career. I was singing since 9 years old, and before my 40th birthday my biggest wish was to go to the Eurovision Song Contest, and as it will be on 4th July, I just made it in time!." She said. It was mentioned to Nina that her music may have been a uniting force, even at the time of the violent break-up of the Yugoslav republics. She was almost embarrassed by this suggestion, "It's a great feeling when people love you and your music, no matter who they are and where they live. Music has a unique power to unite people. I think that the artist who did the most to unite all of the ex Yugoslavian countries however was Toše Proeski, his music still lives on and people still love him to this day."
Then it was time for the one that most fans had been waiting for! Sweden's Loreen is by far the favourite among those for whom the contest is more than a one day a year event. She revealed that her Moroccan roots may have an influence on her performance. "When I perform I'm almost like in a trance, and I imagine that might come from my Moroccan roots. I put my heart and my soul into this, so what you see is basically all that I have." She has her own theories as to why her song is so popular, "It's very theatrical, there are no effects, it's just me and the stage. Then my dancer represents the male and I represent the female in a contrast of black and white that I like very much. It has this nerve, and well, I'm not sure, because I can't speak for you guys, but I think that's the reason why people enjoy it so much."

The Georgian national anthem heralded the start of Anri Jokhadze's conference. He was asked what he thought of his chances of victory. He replied "We just do our best, and hope people will like our song. We are sure we can host the contest and light the Georgian fire!" Eurovisionary's own Gunel Mamedzade asked Anri "You are good friends with Sabina Babayeva. She has been in Georgia many times as well, are you planning to make a song with her?" This got a positive response. "Yes we are very good friends. I really like her personality and we would definitively work together. We are friends and represent two countries which are neighbours as well so I'm very happy about it!"

Birthday boy Can Bonomo and the Turkish delegation were next to enter the conference room. He talked about his status in Turkey, "In Turkey my music is considered alternative"
It's ten years since Estonia hosted the contest and Ott Lepland was asked what differences he thought there are now in the contest compared to then. "I believe that Eurovision has changed, there are more countries competing than 10 years ago. To my eyes it has become bigger, but I still believe that it would be a big deal to win for Estonia. It's awesome here!" It's tough being selected to sing for your country and there are sacrifices to be made. "When I got back to Estonia from Egypt, I quit drinking and smoking in order to keep my voice in top shape." he revealed.
After declaring himself very happy after his rehearsal, Slovak representative Max Jason Mai stated "I have always enjoyed music, arts, performing, so it was a great opportunity to join all this together." He hopes that his appearance in the contest can help bridge a musical divide. "I'm a rock'n'roll singer, and my career started in a garage band, so I want to stay with my roots. Also, there are so many different styles of music in the Eurovision Song Contest." He added: "There are so many rock fans who think that Eurovision sucks, and maybe this is a step to bring those people to the Eurovision Song Contest."
Norwegian singer Tooji has been compared to Sweden's Eric Saade, a comparison he is not sure about himself, "Although I can't see the similarities myself, Eric Saade is a very talented artist and I take it as a compliment." He also revealed that he has only recently learned to sing and dance at the same time and where his influence came from. "I so admire Beyonce because she can sing and dance for three hours but now I have gotten the hang of it. It's fun!"
Maya Sar from Bosnia and Herzegovina was next. She paid tribute to the man who sang for the country last year, Dino Merlin. "I met Dino in 2004 when I started to work as a back vocalist for his album. Dino is from Bosnia & Herzegovina originally. He is also very popular in the other countries of the former Yugoslavia." She was asked about her humanitarian work and the story of her song. "I think it's a duty of every human being to help where it's needed. My humanitarian project Moj je život moja pjesma (My Life Is My Song) exists one year and has a very good reaction in public. I also wrote a song for this campaign. It's a story of two people who are in love and who have to decide which way to go: to separate or to stay to together."
Bringing the day's activities to a close was Donny Montell from Lithuania. He was happy with the way his rehearsal went. "My rehearsal went great, really, very professional staff, oh, and the sound and the visuals, I liked them a lot!" he was asked if the song is personal to him. "The song is not mine, but most everyone has felt broken-hearted at least once in their life and that's the message that the song conveys, so it's easy for me to connect to it."
Tomorrow will see the first 13 countries in the first semi-final stage their second and final rehearsals before the full show is rehearse on Monday.