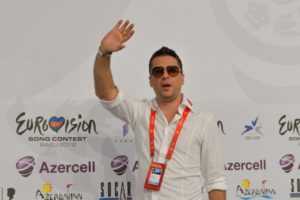 The third day of activity in Baku saw the first eight acts in the second semi-final on stage and in the press conference room.
Since the announcement was made that Željko Joksimović would be representing Serbia again, his first rehearsal was one of the most anticipated. When his song was [presented by Serbian television, he sung both an English and a Serbian version, opting to sing in Serbian in the contest. "It's tradition to sing in Serbian, I spoke to many people and they told me that the song will sound stronger and more emotional in the Serbian language. Everyone can feel my meaning and emotion when I sing in Serbian" he said. Is he happy with the stage? "I'm very happy because I saw the great stage, light in the arena. I saw many perfect people around. It's my fourth time in the Eurovision Song Contest, every time I'm very proud as I represent my country in a good way. I have been host of the contest, singer and composer. This will be my last time as a soloist in the competition."
After a well received rehearsal, Macedonian singer, Kaliopi, told the assembled media that "My song, Black And White, is a true story of me, you, everyone." She was asked about her previously unsuccessful attempt to represent her country in 1996, to which she replied, "It was sad not to be on stage back then." Her ex-husband has written her song this time. "I asked him to write a hit for me, a Eurovision winner. He just said: 'Yes, ok.' And when I heard the song for the first time, it made me cry, I thought – oh god, I love him. That's the story of the song."
Dutch singer, Joan Franka dispensed with the Native American head-dress and wore a single feather in her hair for her conference. "I wear a feather almost every day as it means a lot to me and symbolises me being free." She was asked if her style of music still has a place in today's industry. "I think the 60s will return and that the clothes and fashion and music are still popular" was her reply.  She is still in touch with the subject of her song, a love from her childhood. "It is a very fond memory." she said.
Malta was next and Kurt Calleja told of his beginnings as a singer, "The beauty of any career is the build-up, the process is the learning curve and enjoying yourself the most. As time went by I went to live in London, worked with Ryanair and sang in pubs and clubs, that was when I realised what I wanted to do with my life. I was a backing vocalist on Maltese TV, then entered the Eurovision national selection before and I finished 12th and then third before winning this year." What are his plans when the contest is over? "As soon as Eurovision is over I'm flying to Sweden, we have a couple of songs we are working on. We will make also a duet with Ell, the Azerbaijan winner last year. I'm really looking forward to it."
Litesound, the band representing Belarus, were asked how they thought of their name. "It's a long story. We wanted to create a unique name that sounds good and shows our nature, we wanted to give people light and energy and release. We want people to believe in themselves, because if they don't believe in themselves then they have wasted their chances." It was no surprise when the question of how they were in Baku having finished second in the national final arose. "It was about one and a half weeks before we knew, we had big support in Belarus, and there was an investigation into the voting, and we were very happy when we found out. I still can't believe I am here, every year it was second or third places; I was thinking I will never get to Eurovision."
The Portuguese song is in the traditional Fado style. Filipa Sousa told the conference that there are two types of Fado, one from Coimbra and one from Lisbon. "As the Coimbra one is sung by men, I'll sing for you now one Fado from Lisbon, in the style of Amalia Rodrigues" and she did so acapella. "Fado is not only about sad feelings, that's why sometimes I sing it with a smile, although Fado is to touch people" she said later.
Ukrainian singer, Gaitana, was asked if her song is connected to the Euro 2012 football tournament, which will be co-hosted by Ukraine. She said "I love sport. I use my bicycle, play tennis and go to gym. And when it was announced that European Football Championship will be held in Ukraine, I wrote some music for kids. People say that my song 'Be My Guest' sounds like anthem."
In the Bulgarian press conference, Sofi was asked about the languages of her song. "English is the most important language in the world, but I speak Bulgarian, and I am a gypsy. We wanted to reach everyone in Europe with our love message, that's why we chose so many languages, but unfortunately we didn't manage to fit all the languages in there." She also gave the reason why she is alone on stage, "The whole team, including the composer and the producer from Sunny Music, decided that. I have performed together with several stars on stage, but this time I decided to sing alone, and I'm happy about that."
Tomorrow, Slovenia will get the day started and it will conclude with the last country in the second semi-final, Lithuania.