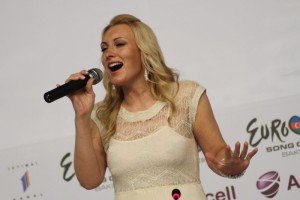 After months of concern that the Crystal Hall would not be ready in time to host the 2012 Eurovision Song Contest, today saw the opening day of rehearsals and press conferences in the land of fire and ice.
The first country to speak to the media was Montenegro, potentially one of the most interesting conferences of the week in the hands of Rambo Amadeus. The singer spent the first few minutes of the conference hiding under the table! When he emerged, he was asked about the Trojan horse that featured on stage with him. He replied saying that it was in fact a donkey, not as significant in history perhaps, bur deserving of it's chance. He also said that there was no intention to give a political message in his song but that it was only the story of an ordinary man. "We are a bit neurotic about the big changes that are going on in the world right now. There is a post-industrial informatics revolution going on, and we have to ask ourselves and others a lot of questions right now."
Icelandic duo Greta and Jonsi were next into the conference room. Jonsi, who sung for Iceland in the 2004 contest, was asked how the duo was brought together. He revealed that Greta had asked him to sing the song with her, "It was a beautiful song and I just decided to sing it. She also asked if we would send it to the Icelandic national selection, and I also said yes." They were asked why the song was in English having been in Icelandic in the national final, "We have a story to tell and I wanted people to understand what we are saying, that the message of the song comes across. I personally believe that the song is better in English in this setting, plus the Icelandic version still exists, if people want to listen to that song, they can!" Greta explained.
Some questions in the Greek conference focused on the choreography. We learned that the idea was to keep the dancing quite simple but try to be a bit different as well.
One member of the Latvian delegation is Līga Robežniece, who was also part of the team when Latvia won the contest in 2002. According to Anmary, "She is our lucky charm!" She was asked why she had changed her name from Linda to Anmary for the contest. "It's a tradition in the church in Latvia to give a name of a saint so I was born Linda Anmary." she replied.
Albania has given us one of the more dramatic songs this year. Rona said, "I'm very happy to represent my country with a song I love and which means a lot to me." Did we see her semi-final outfit at the rehearsal? "The costume will be a very important element of our performance. You will get to know it on May 17th."

From one of the most dramatic songs to one of the chirpiest, brought to us by Romania. Before taking questions, the band treated the assembled journalists to an acapella version of Zaleilah. Although there is a fair bit of choreography in the performance, "Mandinga is a band and we are not dancers." say the band. What do they think of their chances?  "Our aim is to be top five but Madinga have the aim to be the hit of Eurovision" stated their manager.
Swiss duo Sinplus are happy with everything so far. "Everything is great, just finished our rehearsal, very pleased with the light and sound, it's great." Their hairstyles have not gone un-noticed.  "Our style is part of our band. Image is something you have to take care of. We want to make something energetic, that's why we've got crazy hair, it's rock and roll style!." Not surprisingly, they were also asked about competing with Lys Assia, the first ever winner of the contest, in the Swiss final. "Lys is a legend, she is still singing, still playing music, we want to do it at that age too! It means music can really give something more. She was really nice with us. She called us before we left and told us to enjoy the experience."
Like Sinplus, Belgium's representative, Iris, is also happy with everything so far. "Everything had been fine, and that this first time was special." She is not too concerned that she is one of the youngest singers in Baku. "It is a big chance for me. I like that there are different ages. It's what makes Eurovision special!"

The final press conference of the day was given by the Finnish delegation. The Finnish song is written by singer Pernilla Karlsson and her brother, Jonas. She was asked if they are any difficulties with writing with some so close to her. She said there are no problems and they don't argue and it is fun to write with him. She added that she wanted to reach the final and would be happy with that.