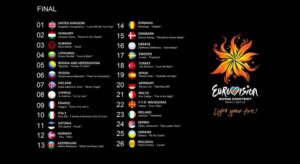 The qualifiers from the second semi final held a winners' press conference at the Crystal Hall arena in Baku.  They were all asked a couple of questions by the press and then discovered their place in the final on Saturday night.
The ten happy finalists were interviewed in the order they were announced.  Here is what happened and their place number in the running order for the grand final on 26 May.
Lithuania: The local press from Lithuania asked what it was like to be in the final with the big countries.  He was very happy as expected. Another journalist asked that Lithuania was not expected to enter the final and what he thought about that and being the first selected. He said again he was very happy! The starting position for Lithuania is number 4.
Bosnia & Herzegovina: SBS radio in Australia asked if Maya could say a few words to her fans in Australia. She was happy for people who voted for her in Europe and sends greetings to fans in Australia. Drawn at number 5.
Serbia: Journalist asked if it was easier now or 2004 to represent.  2004 was special but 2012 just as important. Next question was what is more important to be a singer or songwriter.  First importance is singer.  Serbia are drawn at number 24.
Ukraine: The media from Ukraine asked if she will improve her show in the final. Gaitana she said she will sing even better in the final.  Polish journalist asked what party she had planned.  She had the best food from around the world planned with the best music.  Ukraine will start at number 25 in the final.
Sweden: Journalist asked what Loreen felt about her performance tonight.  She said she remained focused and gave her best on stage. Next question from Azeri press asked what it like to compete with her friends on stage. Loreen said it is not about winning but taking part.  Loreen was asked by Reuters agency a political question and she said she wanted to focus on the happiness of today.  Sweden will being in 17th position.
F.Y.R. Macedonia: Kaliopi said she was grateful to her ex husband. Next come the questions – first 'Terryvision' asked what it means to F.Y.R. Macedonia to make it to the final.  She was happy and received a lot of congratulation messages.  Second question was if she was sorry about any songs that did not make it to the final.  Kaliopi said she would like to have competed against all 42 countries in the final.  F.Y.R. Macedonia will start at number 22.
Norway: Norwegian media asked what it means to have all his family here in Baku at this time.  Tooji said it meant everything to him and he was very emotional. The next question was that Alexander Rybak thinks Tooji will win on Saturday and if he agrees.  He said he would win Eurovision! Norway start at number 12.
Estonia: Local journalist from Estonia asked that Ott has won every other competition he entered and does he think he on the brink of international success.  Ott said the main thing was to perform well on Saturday and represent his country with dignity.  He was asked what are his future plans.  Ott just added he will take each step as it comes and in the future to try and write his own music. Estonia will start in the 11th position.
Malta: Kurt said it means to much to represent his country and be in the final. It is so important.  Maltese journalist asked what his determination was after not being expected by many to make it to the final.  Kurt said he took everything in to consideration and to believe and achieve.  The next question was asked what he felt after being drawn out 9th and how will he party?  To be on the stage is everything and he will do his best to party.  Malta will start at number 21.
Turkey: Can was asked what is his 'river' in the final?!! I think he meant rivals! He thinks it is hard to say. Turkey will be drawn at number 18.