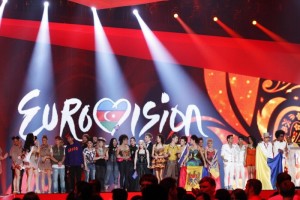 The ten qualifiers from the first semi-final of the 2012 Eurovision Song Contest had their winners' press conference after the show.  They told us a little about their experience so far and found out their all important places in the draw.
Our ten lucky finalists had a press conference tonight/this morning and told us what they're expecting now.  They were interviewed in the order their country names were drawn out.
RoRomania – Happy to be in the final. Mandinga had problems with her earpiece and Elena sang the song hearing nothing through it. It was very awkward to hear nothing and was incredible to sing to the end of the song. They are happy to make the show again on 26 May. The seventh member, Tony, was in the Green Room. They will celebrate at the Euroclub, but not for long because they have work to do. Romania was drawn 14th in the Final.
Moldova – Pasha Parfeny promised his country he would be in the final. Now he wants to promise to do more than he has already done. He wants to finish higher, maybe even finishing first. Pasha has received messages of support from the TV channels and radio channels in Moldova. He's waiting calls from his mother and father. Moldova was drawn 26th in the Final.
Iceland – Jónsi said it's been great and it's an honour to be here at the press conference. Would they come back next year like Jedward maybe with a water feature? They have nothing planned yet but would leave the water to Jedward. Jónsi thought the experience has changed since 2004, but the rules were different then because he was in the final. And he has the wonderful lady beside him who wrote the song. Great is grateful Jónsi liked the song. They were asked what the advantage of the gloomy and calm song when others are happier? It's a song based on a tragic story and is about hope, obsession and missing someone. They like keeping it traditional. Iceland was drawn 7th in the Final.
Hungary – Compact Disco are very happy and would like to thank all the people working around Eurovision. They thanked everyone for the votes. What are the main goals for the final? The main goal was to get there but now the plan is to win. They will also be having a 'party for everybody'. Hungary was drawn 2nd in the Final.
Denmark – Soluna is super excited and it would have been a real bummer to miss the final. She is looking forward to Saturday. Her humility is to do with her background which is a strict musician's family. She sees this as a fun experience and will learn from it. But she's having a great time right here. Jedward asked what she'd say to her fans about making the final? Soluna's in good company and would like to thank everyone for voting. Denmark was drawn 15th in the Final.
Albania – Rona said thankyou and she's very pleased to be here with a song that means a lot to her. Her performance was dedicated to those souls that lost their lives yesterday in the bus crash. To those who have supported her, she tries to do what she believes in and what makes her feel herself. She's happy to be among others in a similar position. She thinks it is important to share a sincere opinion and express inner self with everybody. She is happy to have a chance to share with the people in the Crystal Hall. They are sharing in her personal story. Albania was drawn 3rd in the Final.
Cyprus – Ivi Adamou can't explain how she's feeling but she's excited and happy. Both her and Eleftheria are Cypriot girls and she feels great about that. Two girls from Cyprus in the final is so exciting. A Russian journalist then proposed to her before asking her about Hollywood. It's a dream for everybody to go to Hollywood. You never know but it's difficult. Let's keep our fingers crossed. Cyprus is drawn 8th in the Final.
Greece – Eleftheria would like to thank the Greek delegation. They have worked hard for this and can't believe she's in the final. She is talking about the economic problems through the music. She wants to enjoy her time here and put a smile on peoples' faces. She hopes to make Greece proud. When Eleftheria was on stage she couldn't believe she worked so hard for three minutes. She enjoyed it and had fun. She was focused and couldn't believe it. Greece was drawn 16th in the Final.
Russia – The Babushki would like to thank everyone who voted for them. There was a lot of people and noise in the Hall. We couldn't hear very much but it was great. When asked by a Swedish journalist about the song by Loreen, they said they liked it. Russia was drawn 6th in the Final?
Ireland – Jedward are twins and excited to be in the final. They've got loads of support. They've been all round Europe and met Barack Obama. There was loads of tension in the Green Room. The suspense was unreal. They feel sorry for Austria and the other countries that didn't get through. But they should come back next year. It'll be awesome on Saturday. They also liked doing cartwheels onto the stage. Ireland was drawn 23rd in the Final.
Stay tuned to Eurovisionary for more news on the second semi-final on Thursday.