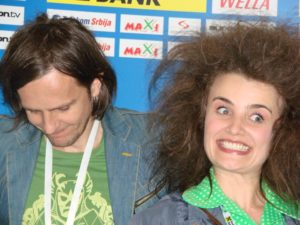 Day two of the 2008 Eurovision Song Contest offered, just like the first day, a wide variety of performances at the press conferences. EuroVisionary have collected the best bits in a video that includes accoustic and acapella performances and even a Stradivarius.
The highlights of day two were the widely mentioned Dustin the Turkey from Ireland and Russia's Dima Bilan. Andorra's representative Gisela gave extra meaning to her Spanish background by performing Tu Voz Si Apagará from the Spanish selection in 2007.
Laka and his sister gave a short accapella version of the Bosnian entry while Hind recieved big applause for an amazing accoustic version of the Dutch entry My heart belongs to you. With Vladan, a Serbian guitar player, to support her this gave a whole new dimension to the song.
ico who represents Romania together with Vlad entertained the audience with examples of what she has to offer and as if the fans and the press had not yet gotten enough, Isis Gee blew everything away with her very strong vocal. Despite an American accent she might just have one of the strongest female voices in this year's contest. Dima Bilan is one of the favourites to win the 2008 Eurovision Song Contest. In his second shot at the victory, he is combining the powers of his voice with Olympic champion in figure skating Evgeny Plyushchenko and Edvin Marton on an authentic Stradivarius violin.