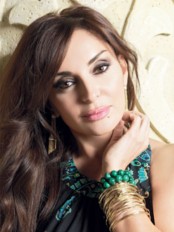 The president of Azerbaijan, Ilham Aliyev has, in a suprise move, appointed his wife Mehriban Aliyeva as project manager for next year's Eurovision Song Contest in Baku.
The land of fire finally managed to secure a victory in the contest this year with Eldar and Nigar and Running Scared, after four years of hard work and considerable efforts on their part with their past entries. According to Azerbaijani media, president Aliyev, who succeded his father as the head of state, has given his wife the main responsibility for supervising the production and development of the event. Others who have been given shared responsibility are six ministers from the Azerbaijani government as well as the chairmen of Azerbaijani Airways, the largest power company and other prominent businessmen.
Norwegian media are quick to compare the organisation of the contest in Oslo with that of next year from Baku, stating that state broadcaster NRK was given carte blanche to arrange the event without any interference from the state. Norwegian Head of Delegation Per Sundnes is quick off the mark to give his opinion on the matter to NRK.no, citing the Azeri decision to be quite extraordinary, but nevertheless not surprising. "I'm aware that a victory in the Eurovision Song Contest has been high on the political agenda in Azerbaijan, so I suppose the politicians want to be part of the show now that they finally get to host the event" he tells NRK.
President of OGAE Norway, Morten Thomassen, also gave his thoughts to NRK on the matter: "We shouldn't rule out that Azerbaijan will get hold of the best money can buy. We're talking about a country that is geographically pretty isolated and which never features in the media except when it received bad press. Now they finally have the chance to show the positive aspects of their country, so the staging of the contest could potentially be huge."