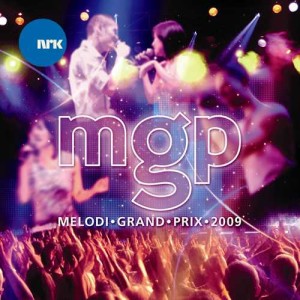 30 seconds clips from all the 21 participating songs for the 2009 Norwegian Melodi Grand Prix has been made available by the broadcaster and the full album can be pre ordered. For those who can't wait for full versions they can be purchased as downloads.
NRK, the Norwegian broadcaster has uploaded 30 seconds clips from all the 21 songs and the sponsor, Telenor is offering all the songs on downloads for 12 NKR each or 99 NKR for the full album. Scandinavian music store CDON.com is offering the full album as a pre order which will be sent to your address as soon as it is being released for official sale on the 26th of January.
 
The album will of course contain all 21 participating songs. The tracking list implies that they are in the same order as they will compete in the three Norwegian heats.
All 21 songs competing to represent Norway at the 2009 Eurovision Song Contest:
1st heat on 24th of January from Kongsvinger:
Surferosa – U look good
Chicas del Coro – Men, men, men
Ke Sera – Party
Espen Hana – Two of a kind
Charite – Sweeter than a kiss
Thomas Brøndbo – Det vart en storm
Velvet – Tricky
2nd heat on 31st of January from Bodo:
Wenche Myhre – Alt har en mening nå
Publiners – Te stein
Tine Wulff – Ride
Alexander Stenerud – Find my girl
Janni Santillan – Like you did(yesterday)
Julius Winger – Like an angel
Tone Damli Aaberge – Butterflies
3rd heat on 7th of February from Grenland (Not to be confused with the Danish island Greenland):
Sichelle- Left right
The Rebelettes – Soul train
Ovi- Seven seconds
Jane Helen – Shuffled
Foxy- Do it again
Sunny – Carrie
Alexander Rybak – Fairytale
On the 14th of February there will be a extra chance round for the ones who nearly qualified for the final. The final will be held live from Oslo Spektrum on 21st of February 2009. All the Norwegian shows will be hosted by commentator Per Sundnes and last year's Norwegian participant Maria Haukaas Storeng.