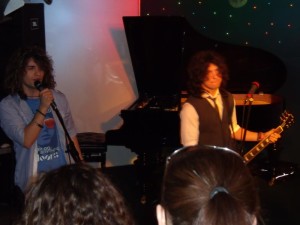 The party for FYR Macedonia has become a tradition over the years.  We always get treated to good food and drink, and some decent performances. This year's proved to be no exception.
The party put on by FYR Macedonia is usually an affair worth getting to, and this year was no exception.  In a break from the norm, we were taken by 'luxury' coach from the Olympic Arena to a cultural centre on the outskirts of Moscow.  We had no idea where we were, apart from it being on the south bank of the Moskva river.  The venue was small, and the stage tiny.  this meant that the larger acts may have a spot of trouble.  However, I personally like this sort of venue, as the atmosphere is a lot more fun.
We were able to sample the traditional buffet fare – cheese, cured meats, canapés, that sort of thing – along with Macedonian wine and vodka.  After some mingling, our genial hostess introduced various acts.  Some were miming, and some were singing live.  First on were the party's hosts Next Time.  They sang "Nesto što ke ostane" in front of an appreciative crowd with a distinct Macedonian ethnicity.  Next on were Slovenia's Quartissimo, who squeezed onto the stage.  The sight of three violinists, a cellist, and several singers vying for space was interesting.  "Love symphony" was performed OK, although she did have a bit of trouble with the high notes.
Slovenia was followed by one of the contest's favourites – Bosnia & Herzegovina.  Again, the stage was a tad small for the delegation, but they made the most of it.  And "Bistra voda" ironically got a better reception the Next Time.  We next had a break from the Balkans, with Petr Elfimov appearing next to sing "Eyes that never lie".  It was tricky to tell whether he was miming or not, but he gave it his all.  Petr then became the first artist to perform a second song.  The late Toše Proeski is still highly revered in his homeland, and Petr gave a very credible performance of one of Toše's songs.  Twelve months ago many were in tears when a Toše tribute was played at the Macedonian party in the Eurocafe in Belgrade.  This year, while the tribute consisted of the one song, many were in tears again.  A touching moment.
We next went back to the Balkans for Croatia's Igor Cukrov.  He didn't perform "Lijepa tena", instead performing two songs.  The second of these was the Andrea Boccelli hit "Time to say goodbye".  Once they pianist got the key right, this was excellently performed.  Kejsi Tola, like Igor before her, was performing at a party for the first time.  I never realised how tiny she was, but despite being only 16, impressed the crowd.  Kejsi is no shrinking violet.
Moving on we were introduced to Andrea Demirovic from Montenegro.  She gave a decent stage performance of "Just get out of my life" before she just got out of the stage.  Chiara was next on.  It appeared that she was miming, as she stopped singing but the sound continued.  Maybe she just wanted to protect her voice.
Now on the home stretch, Andorra's Susanne Georgi came on to the tiny stage with four backing singers and really entertained with the crowd with "Get a life".  She had us all clapping along, and you could tell that she was enjoying herself.  We did too.
Finally, Gipsy.cz came onto stage.  They hadn't expected to sing, to asked to go on last in order for their instruments to arrive.  Eventually they did, and we were treated to some gipsy music, some beat-boxing from Gipsy himself, plus renditions of Real2Reel's "I like to move it" and Michael Jackson's "Billie Jean".
So the party was over, and the next quandary was how to get back to the city centre.  Most of the coaches had gone, leaving the Macedonian and Czech coaches.  Gipsy.cz took pity on us and gave us a lift back to the Euroclub, on condition that we only drank Czech beer from now on.
All in all, a very entertaining party.  While the Belarussian affair the previous night was a lavish affair, this was more intimate, but worked just as well.  Thank you Next Time.