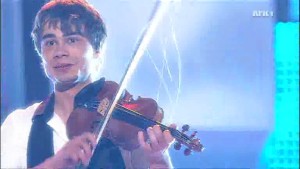 Alexander Rybak won a very clear ticket to Moscow when his song Fairytale recieved 7 times as many votes as the second place in tonight's Melodi Grand Prix final. His personal fairytale has begun – now time will tell if it will have a happy ending in Moscow.
The eight songs competing in the Norwegian final tonight were:
Espen Hana – Two Of A Kind
Ovi – Seven Seconds
Publiners – Te Stein
Alexander Stenerud – Find My Girl
Velvet – Tricky
Alexander Rybak – Fairytale
Thomas Brøndbo – Det Vart En Storm
Tone Damli Aaberge – Butterflies
Alexander's victory turned out to be one of the clearest victories you can get. Here you can see how many votes each of the four songs in the super final recieved:
Publiners: 62.683 – Alexander Stenerud: 73.080 – Tone Damli Aaberge:121.856 and Rybak: 747.888 votes.
EuroVisionary was live tweeting throughout the program and the many tweets can be seen below.
22:18 – The total result from Norway:
Publiners: 62.683 – Alexander Stenerud: 73.080 – Tone Damli
Aaberge:121.856 and Rybak: 747.888 votes.
22:15 – Alexander Rybak will be representing
Norway at the 2009 Eurovision Song Contest with the song called
Fairytale. His fairytale can now begin.
22:12 – With Oslo left to vote there is absolutly no doubt whatsoever….. Alexander Rybak has 368.954!
22:11 – Curring standing after Midtnorge: Te Stein: 31.277 – Find My Girl: 31.357- Butterflies: 53.369- Fairytale: 236.271!
22:08 – As Vestnorge also gives top points there is no doubt – this time it recieves six times as many compared to the second one.
22:07 – Fairytale how have a total of 74.211 – nearest competitor is Butterflies with 27.631.
22:05 – Grenland and Ålesund also gives top points to Fairytale. This looks like a very convinsing victory.
22:03 – Guri Schanke gives Bodø's points: yet again top points for Alexander Rybak's Fairytale.
22:01 – Top points goes to Fairytales with 8000 points.
21:59 – Voting starts right now… Kate Gulbrandsen will announce Kongsvinger votes.
21:57 – It appears to be the same blue dress she just changed to… at the same time NRK put up a sign saying voting closed.
21:56 – And here she goes with Hold On Be Strong…..
21:53 – Now Maria Haukaas Storeng sings. She is
walking among the audience from greenroom to the stage singing this
medley of songs from her album.
21:48 – Publiners performs again now. IF someone is to give Alexander Rybak competition it is probably going to be them.
21:46 – Schlagerboys is being interviewed now. They encourage the Norwegians to vote for the UK!
21:44 – Fourth and last qualifying are Publiners singing Te Stein.
21:42 – One the larger TV screen it becomes clear that the folk dance are using influences from all over the world.
21:38 – Third act that qualifies is the favourite Alexander Rybak. Now both Alexanders made it.
21:36 – My boyfriend just pointed out that she DOES give men something to look at… hmm…
21:33 – Second song still in the running to represent Norway in Moscow is Tone Damli Aaberge singing Butterflies.
21:32 – My internet went down due to snow problems which is why it took a few miunutes longer to post.
21:31 – To the super final is first….. Alexander Stenerud.
21:25 – The envelopes including the names of the
four acts in the super final is being carried to the stage in a rather
gymnastic way!
21:22 – Maria Haukaas Storeng and Per Sundnes is
greeting the audience by saying that it is a lot better than what has
been seen before in Norway.
21:20 – The Norwegian final is about to start again. This second part of the show is scheduled to last an hour.
21:13 – NRK shows some skiing in the break – and
in the background you hear Udo Jürgens' Merci Chérie from the 1966
Eurovision Song Contest!
21:04 – Wohoo, my cable TV signal got back. Now I am not depending on the webcast. Norwegian final continues in 15 minutes.
20:51 – Ok, we got cut off a few minutes earlier… but now there will be half an hour break.
20:47 – My webcast just went down. Thank God, it happen after all eight songs had been performed.
20:45 – With another good performance we are
through the eight songs. I know that Alexander R is favourite, but
Norway just gave us 8 quality songs.
20:43 – Tones's white dress is also quite short, but isn't so revealing as what Velvet Inc gave to the male viewers.
20:41 – Now it is time for the last song: Tone Damli Aaberge sings Butterflies.
20:40 – In greenoom the other partricipants welcomed Thomas by singing a line from his song.
20:39 – Thomas has just finished a very secure
performance which recieved a lot of positive applauce as well. It is
certainly well deserved.
20:36 – Many Danes find the Norwegian language quite charming. Is it the same for others as well?
20:34 – And now it is time for a song in Norwegian. Thomas Brøndbo will be singing Det Vart En Storm.
20:32 – Alexander, his violin and the acrobat dancers are getting the biggest applause we have heard until now.
20:31 – This is a performance to watch later – there is no doubt it is the best so far on stage.
20:29 – The big favorite Alexander Rybak enters the stage now. This is extremely popular with the audience.
20:24 – The four girls are giving the guys something to look at in their Gina G dresses. It is a catchy song though.
20:22 – Velvet Inc will soon enter the stage. They will sing the song called Tricky.
20:20 – It is not just here where it is snowing a lot tonight: it is also snowing on stage now! It doesn't borther Alexander though.
20:18 – Publiners says about Alexander Stenerup
that he is an amazingly nice guy… and yes, it is Alexander's time
now. He will sing Find My Girl.
20:15 – There is something abouyt this song which just makes you in a good mood. I just caught myself standing up dancing to it! 🙂
20:12 – Publiners are entering the stage ready to sing Te Stein.
20:11 – Per Sundnes is dancing Russian folk dance in the greenroom while we wait for song three.
20:09 – The stream is really having problems through this song though.
20:08 – Song number two is Ovi singing Seven Seconds. He is sitting at the piano and is joined by a choir and a guitar player.
20:05 – Espen Hana says that the audience this time was even better.
20:03 – This is a performance similar to the semi-final. A solid performance and he sings it very well.
20:00 – Ok now I up… first song is starting. This is Espen Hana's Two Of A Kind
19:57 – It appears they are a few minutes late with the stream…
19:35 – Due to snow our TV signal is down so I will be tweeting based on the webcast. No optimal, but that's what happens with snow!