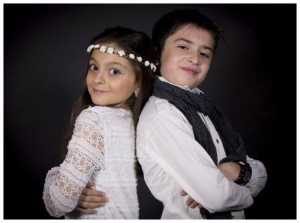 Omar Sultanov & Suada Alekborova will head for Amsterdam and represent Azerbaijan at the 2012 Junior Eurovision Song Contest with the song, Girls and Boys.  The song is written and composed by Jessica Appla, Simon Ellis and Zahra Badalbeyli.
Omar and Suada were selected recently from a special tv show on Ictimai tv in Azerbaijan from a contest where the acts performed several cover versions of songs.
Omar was born in Baku and his ambition is to be a big music star.  He likes pop music and also folk music.  His favourite singers are Beyonce, Bruno Mars, Shakira and Adele.
Suada is a member of the vocal group, Tebessum.  She is very musical and also likes to ballroom dance.  Her favourite type of music is jazz. She can also play the piano.
You can see the video for Girls and Boys below.