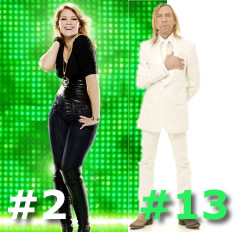 Maria Haukaas Storeng who is representing Norway in this year's Eurovision Song Contest is selling well in Norway, something she has in common with Jahn Teigen who has represented the country three times.
The single top 20 in Norway is based on actual sales and Maria Haukaas Storeng's winning song Hold on, be strong is now celebrating its third week on the list and although it has lost its first position to R.E.M it is still holding on to the top now being the second most sold single in Norway.
Jahn Teigen represented Norway in 1978, 1982 and 1983 and is in particular famous for the null point his Mill etter Mill achieved in 1978 – although it gained huge success in Norway. In the period from 1974 and up until 1996 he took part in the Norwegian final, the Melodi Grand Prix, a total of 13 times. 9 years later, in 2005, he was back for his fourteenth participation and came 4th with My heart is my home. He is still going strong and his latest single, Det vakreste som fins, is now for the second week in a row to be found among the 20 best selling singles in Norway. He entered straight into a 6th position, but is now number 13.
Both Maria and Jahn are now fighting against names such as Michael Jackson and R.E.M. Next week will tell if they can remain their place among the 20 best selling names in Norway.
Links
Jan Teigen's official website
NRK's melodi grand prix site
Norway's official chart