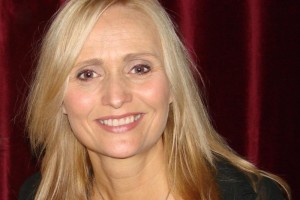 Having been beaten by Kirsten and Søren's gimicks two years in row Lise Haavik was happy when she won the ticket to represent Denmark at the 1986 Eurovision Song Contest. Lise is still active as singer who sings pop as well as jazz – and then she has found a call teaching in singing.
Lise Haavik and Lonnie "Devantier" Kjer were special guests at the Danish OGAE convention on 1st of Novmeber 2008 held in Odense.
Here is Lise's story:
For Lise Haavik the Eurovision Song Contest experience was a nice experience she has never regretted. Although she pointed out that they unfortunately didn't receive any help or advise on how to handle the press: Suddenly we were told that we had a press meeting, we were seated and you have no idea what it is you are in the middle of. One has to be prepared otherwise you won't sound very intelligent, especially if you are blond and wearing pink clothes!
Lise Haavik was experienced having a career already and that helped her when things got very hectic around her. 1986 was such a busy year for her and her husband, songwriter John Hatting that today she doesn't remember much of it. The year after things got a bit slower and suddenly it went very fast down the hill. She advises people not to take part in those various talent competitions like Idols etc. simply because it is damn hard to suddenly be on top where everyone wants you and then the next moment you are basically forgotten and no one has an interest in you anymore. Some might say: well that's how the music industry is, but Lise thinks it is worse when you come from those talent competitions as when they continue with a new show six months later you will automatically be replaced by the new ones.
Being able to add Melodi Grand Prix winner on your CV has given Lise Haavik the opportunity to have a career as a Dansktop singer, but she has chosen herself that she only wants to sing songs she really likes. For her it is about having her heart involved: "Maybe I would have had an easier career if I would have been singing all that Dansktop which they wanted me to, but no. If a song doesn't mean anything to me, I will not sing it. It is a decision I have made".
Lise Haavik participated in the Danish finals in 1984, 1985 and 1986 – all three years she was up against Kirsten & Søren (Hot eyes) and she also talks about the way she felt about them at that time: In 1985 when they won again I was just like… why do they have to be in it again? Everyone was mad at them, but… they were good.
One of the Danish fans interrupt and says that Kirsten herself states that they had the best song in 1986, but didn't win just because they had won the previous two years. Lise clearly disagrees with that: You got to be kidding me! Does she think that? I don't remember their song from that year, but I do remember that it wasn't particular good. She continues: At that time I thought it was too much with all their gimmicks… first they fall into a swimming pool, then they bring their children on stage and then they throw a guitar at their conductor! It was too much at that time, but it is about doing some tricks to sell your song and then it is just a matter of who is smartest.
Lise recorded a demo for a song sent in to the Norwegian final in 2006, but she didn't think it should have been her singing it, had it been selected. She has no plans to be back in Eurovision, but should the right song really show up she wouldn't say no. When asked if there is any Dansk Melodi Grand Prix songs she would have liked to sing the answer is clear: Tænder På Dig from 2005. About Jacob Sveistrup who sings it she says: He is yummie and has a cool charisma and a great voice.
Lise looks back on the Grand Prix years with nice memories and thinks that it is great that there are Eurovision fans who listen to her songs today, are uploading her performances to YouTube and still remembers her: Last week I received a fan letter from someone in Germany. "It is great to think about that my song has meant something to someone in another country. That is what is so fantastic about Grand Prix – it never dies. There is always someone who remembers you and thinks that it is good what you did.
Lise Haavik has released three solo albums since the TRAX album from 1986: One with pop songs from 1988 in Danish, in 2003 a pop album in English together with her brother and a jazz/pop album in 2007. At the moment she is also working on a new album, but she doesn't expect it to be finished before next autumn.
When asked about which of songwriter John Hatting's two Eurovision entries (Hallo Hallo from 1990 and Du Er Fuld Af Løgn from 1986, ed.) she would have prefered to sing had she been able to choose she picks Du Er Fuld Af Løgn. It would have been great to have had both as I think Hallo Hallo is more popular than Du Er Fuld Af Løgn… but I would stick with Du Er Fuld Af Løgn as I think that it is a bit more sophisticated.   
Below you can see a performance of Lise Haavik singing her Eurovison entry Du Er Fuld Af Løgn together with fans at the Danish OGAE Convention and don't forget to look at the pictures in our photoalbum.
Links