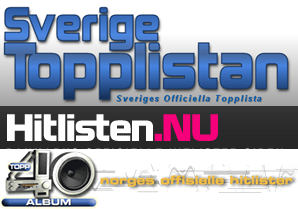 The newly released DVD from this year's Eurovision Song Contest is selling well – and the same counts for the official CD, although it has left the charts in one of the Scandinavian countries after having been near and at the top since it hit the stores this spring. 
In Sweden the official CD album is currently third best selling album with a total of five weeks on the list. It has dropped two places from last weeks top position, but the album has now sold so much that it has reached gold status. The album with all the participants from their national selection, Melodifestivalen, has sold 5 times platinum in 14 weeks. This week it dropped two places from 4th to 6th on the combilation album top20.
This years Eurovision Song Contest DVD went straight into a second place on the DVD top20, a list that also features the DVD from 2010 as #16 and the 2008 one as #18.
In Denmark the DVD went into the charts as 5th most sold DVD, but the official album is no longer among the best selling CD's after it was #6 on the charts last week after a total of 8 weeks where it managed to peak at the first position.
The album with all songs from the Danish Junior show, the M:G:P is still there as #12 with a total of 14 weeks on the list.
The DVD that sells well in both Denmark and Sweden is not listed on the charts in Norway, but if you want to buy it at the country's largest CD and DVD store Platekompagniet you are not able to find it either. It is not known when and if it will be released in Norway. The CD however is still available and is being sold as well. This week it is number 16 on the album top40 with a total of five weeks on the charts.