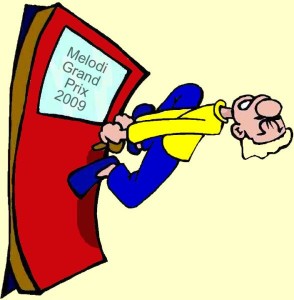 After a successful fifth place in the 2008 Eurovision Song Contest NRK will now close the national selection for foreign songwriters. This will in particular affect the many Swedes who have seen the Norwegian Melodi Grand Prix as an easier way to get through to the Eurovision Song Contest.
For Norway this year's Eurovision Song Contest was a big success, the country finished 5th as best of the Nordic countries in the final and the viewing figures nearly tripled. The growing interest in Norway is one of the reasons that NRK is now closing their national selection.
Another reason is the fact that they before have been highly criticized for letting the Swedish songwriters more or less take over the Melodi Grand Prix as it happened in for example 2005 where two out of each three songs sent in were written by foreigners, mainly Swedes.
Project leader for the Norwegian selection, Stian Malme says that he wants the Melodi Grand Prix to be a forum where Norwegian songwriters can develop and present themselves both nationally as well as internationally. NRK will continue with the open selection, but it will require either a citizenship or a permanent address in Norway to send a song in. In the case that a Norwegian songwriter chooses to work together with foreigners it will be allowed as long as minimum 50% of the songwriters on one particular song are Norwegian.
EBU has no rules about songwriters or artists being from a particular country nor do they get involved in the national selections and it is therefore up to each broadcaster to set up their own rules. Some countries think that foreign songwriters improves the quality of their selection while others choose to see the contest as a competition where songwriters and singers should compete for their own country.