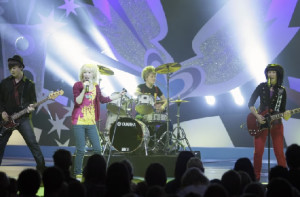 Last nights Nordic Junior Contest was for the second time in a row won by Norway. The Blacksheeps' Oro jaska beana got a clear victory with Denmark coming second in a show with a high level music wise.
It is interesting that the first two years this Nordic contest was held Denmark won. With Norway now having won the last two years in a row Finland and Sweden have still never won the MGP Nordic.
Denmark 1: The Johanssons – En for alle, alle for en: Hip-hop song about bullying. Quite a cool performance, but maybe they were nervous, as they were not smiling nearly as much as in the Danish final?
Norway 1: The Battery – Tenke nå!: A pop/ rock song about how we should all be better at thinking about the environment. The whole band is doing well, the song is great – and the lead singer is a chapter for himself as he is so amazing on a stage!
Sweden 1: Linn –  En sång från hjärtat: A Goth – teenager singing about losing a dear friend. A nice touching ballad, but her black Goth look and the many piercing in her face doesn't quite fit the song.
Finland 1: Footboys – Fotboll: A song about how cool it is to play football. 2 charming boys in a glam rock/ pop style that reminds a bit of Magnus Uggla. They are quite adorable and will appeal to the younger audience.
Denmark 2: Sandra Monique – Hola Chica: A pop song about meeting a nice Spanish boy on a holiday. Not a particular good performance as it is hard to see a clear connection between the song and the performance as so many of the others can do.
Norway 2: The Blacksheeps – Oro jaska beana: Interesting punk/rock song with a female lead singer. A really good performance means fight between the two Norwegian songs.
Sweden 2: Jonna – Kommer jag våga: Swedish Schlager pop as we all know it. She is good looking and have a good voice, but where is her wind machine?  This should stand out as the best Swedish song and the Swedes can be well assured that the future after Carola is secured.
Finland 2: Big Bang –  Här är vi: Rock band with a female lead singer. A good song, but it doesn't quite make it beyond the stage. They will have a hard time beating the football boys.
As usual one song from each country are being selected for the super final. From Sweden, Denmark and Finland the choice is quite clear while Norway is a bit unsure. This format means that we will be saying goodbye to one of the two best songs.
To the super final are The Johanssons from Denmark, Jonna from Sweden, Footboys from Finland and Blacksheeps from Norway!
The voting gives Norway a clear victory ahead of Denmark. Sweden comes second with the Finnish footboys right after.
In the video below you can watch the winning song.