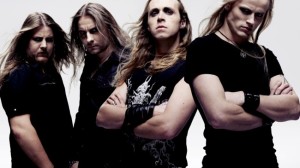 Norway kicked of its 2010 national selection in a flight hangar in Ørland. Seven songs battled for still having a chance to represent their country on homefield at the Eurovision Song Contest in May. For the first time a metal band qualified for the final in Norway. That Maria Haukaas Storeng also did comes as no surprise.
Tonight's show kicked of with a few minutes looking back on last year's national competition. Should anyone have forgotten that Norway had quite a strong final these clips proved it – and of course they ended with showing clips from the non exiting voting in the Eurovision Song Contest where Norway got a very clear third victory.
Song 1: 26 year old Gauta Ormåsen was the only one singing in Norwegian at this first heat in the 2010 Norwegian selection. The song Synk eller svøm (Sink or swim) is written by Gauta himself, Laila Samuelsen and Kim Bergseth. The latter being the producer of Alexander Rybak's Fairytale, the very reason Norway will be hosting the international contest in May.
The song is in a march-tempo with a lot of traditional folk instruments on the chorus, which won't appeal to many outside Norway, but on homefield this might become quite popular.
Song 2: Lene Alexandra particpates in Melodi Grand Prix for the second time, but is internationally most known for a one hit wonder called My Boobs Are Ok! 2 years after Sillycone Valley Lene tried again this time with the song Prima Donna.
Prima Donna is a catchy dance song, easy to sing a long to, but you can't help feeling that it doesn't quite get anywhere.
Song 3: Johhny Hide is in Norway known from the band Number Seven Deli. Now he is solo with the song Rewind Love written by Julian Berntzen.
It is a classic pop song with hints to the folk music. Johnny plays a guitar with a backing band behind him. To bring resemblence to Alexander Rybak a violin player has a few solo parts. It will probably do well in Norway, and though it really is nice it is doubtfull that other countries will fall for this.
Song 4: Bjørn Johan Muri is just 20 year old. He came second in the Norwegian Idol final two years ago. His debut in Melodi Grand Prix is called Yes Man.
Yes Man is a synth based songs with programmed drummings in the background. Bjørn Johan has two male dancers in the background and two female choir singers. He is quite cute, but I am sorry to say that this song simply is too boring for me.
Song 5: 24 year Elisabeth Carew is half Norwegian, half Gambian. She calls herself a Eurovision Song Contest fan so lets see if other fans will like her song Rocketfuel.
It is a very catchy song, which will do well on the dance floor at the afterparty. The much activity on stage already reminds of a song participating at the Eurovision Song Contest. Its a strong song, but I don't quite see it as a winner.
Song 6: Maria Haukaas Storeng needs no introduction as she represented Norway at the 2008 Eurovision Song Contest with the song Hold On, Be Strong that came 5th in Belgrade. Last year she hosted the Norwegian selected aside from also participating in the Swedish selection, Melodifestivalen.
You Make My Day starts out like a ballad like her song song two years ago and it sounds like a song that originally was written for the album that came shortly after. It is a nice song which should have no problem qualifying for the Norwegian final, but it is a shame that she doesn't show other sides of her talent.
Song 7: Keep Of Kalessin is a Norwegian extreme metal band that was founded in 1995 and got its debut in 1997. The band has toured in both Europe and USA and this is the first time they are trying the Melodi Grand Prix.
The song is called Dragontower and is really hard to describe. They make WigWam and even Lordi look like what you will hear at your grandparents tea get-together and it is really impossible to tell how much this will appeal to the Norwegian TV viewers as it is so different. It is not my cup of tea!, but it is so obscure that it might just make it to the final if enough young people will vote. I have a hard time seeing anyone over the age of 35 voting for this, but it will either qualify directly or get nowhere.
As interval act British TV host Ian Wright travels to Norway. He comes with the mission to find out why Norway, the country that use to get 0 points at the Eurovision Song Contest, suddenly is doing better than the United Kingdom. Ian is a well known face to many TV viewers from travelling programs like Globe Trekker/ Lonely Planet and this interval act that is in English will continue in the other shows.
To a second chance goes song number 4 Yes Man and song number 1 Synk Eller Svøm. Both of these songs will still have a chance to participate at the Norwegian final in Oslo Spektrum.
Direct to the final is first Maria Haukaas Storeng. This is absolutly no surprise, but by announcing her first a little exitement is still left about the second direct qualifier. When she sings the song again it is possible to hear that she can make it again, fans will point out that we have heard this before, but isn't that often the case with the Eurovision Song Contest?
The second direct qualifier is…. Keep Of Kalessin! There we have the proof of young people do voting at the Contest. How will this do at the national final? I really don't know…
Below you can see both of the qualifying songs from first heat of the Norwegian 2010 selection.