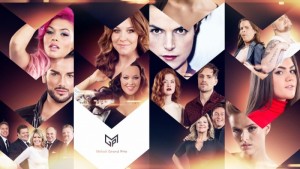 A few weeks ago Norwegian broadcaster revealed small clips from the 11 song that will battle to represent the country at this year's Eurovision Song Contest. The full versions of all entries are now made available with no clear favourite in the lead promising an interesting final.
On the 14th of March the Norwegians will chose the song that will represent them at the 2015 Eurovision Song Contest in Vienna. This year broadcaster, NRK, dropped the usual semi-finals. 11 acts have been chosen for one big final.
The full versions of the songs were released today, and can be heard on NRK's website. There are no clear favourite among them and the Norwegian music critics aren't in agreement either about who will win: From VG Østbø believes it stands between Alexandra Joner and Ira Konstantinidis. Karin Park is thought to be the winner by Robert Hoftun Gjestad from Aftenposten. Dagbladet's Anders Grønneberg points to Jenny Langlo and from NRK P3′ radio Mads Borch Bugge mentions Mørland & Debrah Scarlett.
Four opinions and four different viewpoints. Things sure are open in Norway. 
Melodi Grand Prix 2015 participants:
Alexandra Joner – Cinderella
Contrazt – Heaven
Erlend Bratland – Thunderstruck
Ira Konstantinidis – We Don't Worry
Jenny Langlo – Next to You
Karin Park – Human Beings
Marie Klåpbakken – Ta Meg Tilbake
Mørland & Debrah Scarlett – A Monster Like Me
Raylee – Louder
Staysman & Lazz – En godt stekt pizza
Tor & Bettan – All Over the World