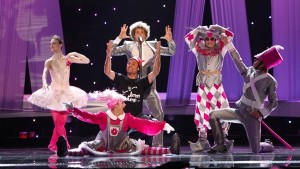 Catalonian Jaume Marquet Cots who goes under the artist name Jimmy Jump has received a fine of 15.000 Norwegian kroner for interrupting the Eurovision Song Contest final last Saturday. A Norwegian businessman paid the fine as he has been a fan of Jimmy's stunts for years.
It created a bit of confusion when one from the audience went on stage during the Spanish entry at this year's Eurovision Song Contest final. The security people were a bit slow in reacting as they first thought it was a part of the act. After he had been removed from stage and taken to the nearest police station it turned out that it wasn't just an ordinary fan who had joined Danish Diges on stage in song number 2. No, it was a well known self made "artist", who is famous for interrupting various events around Europe.
Jimmy Jump's biggest stunt media wise was in 2004 at the European Championship in football. During the final between Portugal and Greece he managed to get on the field, threw a F.C Barcelona flag at Portugal's Real Madrid player Luis Figo and afterwards relaxed a bit in the Greek goal before being taken away by security.
At the 2008 European Championship he was present as well and this time he managed to disturb the semi-final between Germany and Turkey. The year after had decided to try with tennis. The final in French Open between Roger Federer og Robin Söderling was temporary suspended as Jimmy Jump again gained publicity.
As Jaume Marquet Cots started his stunts back in the '90's he has tried quite a lot of things, but had until this year not been hitting Europe's biggest TV show, the Eurovision Song Contest. He has managed to get a lot of fans over the years and one of them, the Norwegian business man and professionnel poker player Morgen Klein was so enthusiastic about his appearance on stage during the Spanish song that he has offered to pay the fine which is mentioned to be 15.000 Norwegian kroner. Morgen says: I think Jimmy made a good appearance. It was fun to watch and I want to give some of it back. What he does is basically innocent. I don't see anything wrong with it. He adds that he has been a fan of Jimmy Jump for years and that those two are now talking about a future collaboration. 40 year old Klein wants to add though that he didn't know of the plans in advance. Jimmy himself has said that it had been planed for a couple of months. 
Jimmy Jump was released after the fine was paid, but arrested again as the Norwegian police catched him being only 5 meters from the Norwegian King Harald. They feared he might be planning other stunts in Norway so until they can send him back to Spain he will remain in police custody. Norwegian laws makes it possible to send him out of the country and refuse him access to Norway for a period of time.