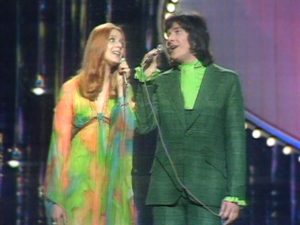 Norbert Berger, known as one part of the popular German Schlager duo Cindy & Bert passed away. As it was announced tonight the 66-year-old singer did not recover from pneumonia and died in a hospital in Düsseldorf last Saturday.
In the 1970s Cindy & Bert belonged to the most successful and popular artists in Germany. The Eurovision Song Contest in Brighton in 1974 was supposed to be their career's highlight when they represented Germany with Die Sommermelodie, but their song did not score well among the juries and finished on a tied last place with Switzerland, Portugal and Norway.
Cindy and Bert were not only a duo on stage. They got married in 1967 and have a son called Sascha. In 1988 the couple got divorced and they split up on stage as well. Cindy started a solo career while Bert worked as a producer. In 1994 they were invited to the former German music show ZDF Hitparade where they performed together again. 12 years later they gave a short visit in the German version of Big Brother.
Today it was announced that Norbert Berger passed away last Saturday due to pneumonia.