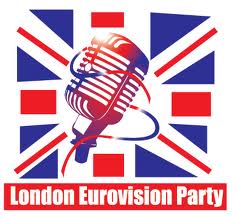 London's Shadow Lounge was once again a venue to what has become an important annual event on the route of the Eurovision circus. A packed house saw a host of past and present Eurovision stars prove that they have what it takes in front of an enthusiastic audience.
The Shadow Lounge in the heart of London's Soho district hosted it's third Eurovision Party. While not as many stars perform as at other shows such as the Amsterdam concert, what it lacks in quantity it makes up in quality.
Nicki French (UK 2000) and Paddy O'Connell were again our hosts for the evening's events. It was a sell out again, and a Eurovision disco provided a warm up for the show that was to follow.
Lithuanian singer Donny Montell had to pull out of the show at the last minute, so our first act was Omar Naber. He's now living and working in London, which made it a local gig for him. He started off by singing his 2005 song Stop. After the fast-paced disco that had preceded it, it was a welcome song to calm us all down. He followed this with an acoustic version of his runner-up song in 2009 Slovene national final I still carry on. Finally he performed his latest single.
Staying with the Slovene theme, Nicki introduced his fellow country-woman Eva Boto. It was hard to believe that she's only 16 years old. She had a few problems with feed back on the backing track, but she seemed pleased to be at the party, and gave an enthusiastic performance of her song Verjamem. As a second song, she performed A si sanjal me, her other Slovene language song from the national selection.
Staying in southern Europe, next on was Portuguese songstress Filipa Sousa. The pretty Filipa told us that her parents were there in the audience, and this was the first time they'd ever flown. Dedication indeed. Filipa had a three song set for us. After naturally singing Vida minha she entertained us with a song she learnt when she was four – the year it represented Portugal in Lausanne. She was surprised when we all sang along, and knew a fair amount of word to the song Conquistador. Finally she pandered to her crowd with a credible cover of My time, the UK song from 2009.
Before we had a break, the stage was re-arranged slightly for the 2012 participants from Hungary, Compact Disco. The four piece band had become a three piece for the purposes of the night, just as well given the size of the stage. Resplendent in a Hungarian State flag as a cape, we were treated to their song Sound of our hearts. Their second song was a new one called I feel the rain.
At each 2012 act finished, Paddy and Nicki presented them with special mini-pops portraits, designed by fan Ben Morris. They were also presented with a silk scarf on behalf of some of the sponsors of tonight's show.
After the break, Nicki herself sang a couple of songs. In Düsseldorf last year she had performed a 12 minute medley of songs on the boat cruise on the night before the Contest final. She'd trimmed the medley down for this, and everyone was singing along. The next clue to her other song was the long lilac she was wearing, a clue to Don't play that song again. The happy crowd even joined in with the actions.
Back to the 2012 participants, and we had our only 'Big 5′ singer next. Thirty-eight year old Anggun did not look her age, and took to the stage in a very orientally themed dress. She only performed the one song, Echoes, but it was very well received.
Next on was a song that had courted more than its fair share of headlines over the past few weeks, and many now saw it in a different light as a result. Valentina Monetta and her two backing singers sang the 'banned' version of The Social Network Song. Another song that some of us had heard was next in her set. The scat influenced Una giornata bellissima was performed, and unlike anything else we'd heard all evening. She finished off with the 'official' version of her first song. It did go up in many people's estimations.
In a bit of a coup for the party organisers, this year's host's performer Sabina Babayeva was our next act. Very glad to be in London, she told us that Baku was ready to host the contest and she looked forward to meeting us all there in a few week's time. Like Anggun, she only sang the one song (When the music dies).
A late inclusion in the guest list was from someone not performing at the Baku contest. A fan favourite from 2011, Hungarian Kati Wolf impressed us all with her song What about my dreams from last year. Arguably the best received of the night so far, she clearly knew her audience was able to play to them perfectly.
Our final act proved to be the best value for money, and her song also went up in a lot of people's estimations. Kaliopi from FYR Macedonia also knew her audience and her heartfelt song Crno i belo was flawless. She then sang her latest song, a classy number called I love you. After this she talked to the crowd while a keyboard was set up behind her. What would she sing we all asked ourselves? The answer was a song from 1996. The song that could have been the first Macedonian song in Eurovision had it not fallen at the semi-final stage. Samo ti had been jazzed up a little for the show and she segued from that into an English version of her 2012 Eurovision song. The highlight of the night for many.
After this, Anggun was called back onto stage. We'd found out her age, but didn't know that it was also her birthday. A large cake was bought out, and she blew out all the candles.
The concert part of the night was now over. Most of the singers drifted off but Kaliopi was later to be found on the dance floor.
A very well organised night with a good variety of guests. There is already discussion of a 2013 party, but as these events fill up fast, early booking is advised.
A gallery of the party is here.