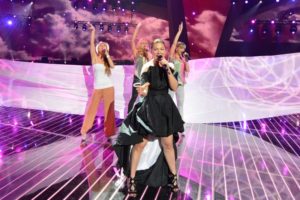 After a period of three years without qualifying from the semi-finals it is time for Croatia to call upon a very experienced and well respected artist to try and change that streak and with the sort of big-voiced and dramatic ballad that everyone expects from a Balkan country.
The staging was reminiscent of what we have seen in the official video and also the graphic of the blue sky with dramatic clouds in the background.
Nina Badrić was accompanied by three female backing vocalists and two male dancers situated around and behind her. They were dressed in casual clothes predominantly white except one of the dancers who was dressed all in black. Nina wore an elegant black dress with some white wires hanging from the back.
The choreography was great and she is very well synchronized with the backing singers. Towards the end of the song the two dancers unfolded a huge sheet behind Nina and her backing singers with a wind effect.
The rehearsal went smoothly despite she is still recovering from her recent vocal chords surgery but there is no doubt that she has a strong voice and the song was beautifully sung and capably performed.
It will all depend on her staging and performance but his year's draw will be favorable to Croatia, as the lion's share of the former Yugoslavian nations will be in the second semi-final. Will the friendly neighbours give her their votes?
Below you can see our 3D video from this rehearsal.