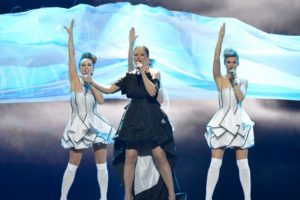 Nina Badric a popular star in the Balkans.  But can she win over the rest of Europe with her power ballad?
On stage for the second time
today was Nina Badric.  A major star in parts of Europe, she gave a solid rehearsal today in the outfit she will be wearing next Thursday.  This was a black dress short at the front and long at the back.
Nina is accompanied on stage by three female backing singers.  They are in short white dresses and long white socks.  Finally, there are two male dancers in black vests, sarongs and boots.
The backdrop for this are rapidly moving clouds
representing the heavens that she is singing about.  It is discreet enough to not draw the viewer's eye away from the very well choreographed stage performance.
The dancers are very energetic with their routine.  Towards the end of the song they grab a large white sheet of cloth that they hold up behind the singers.  Lights and patterns are projected onto this, giving a very good effect.  At  the endof the song they almost completely envelope Nina and her backing singers.
Nine is a very experienced and reliable singer and it shows with the solid performance she gave.  The main thing going against it is the ballad from a similar part of the world that precedes it.  The song from Slovenia is arguably better.  But if Europe wants a singer that will always put in a solid performance, then this could just be the one.