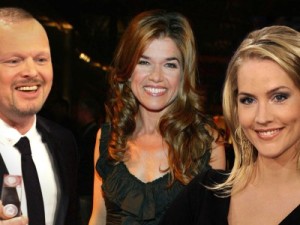 Soon after the announcement of the details concerning the German final "Unser Song für Deutschland" the NDR announced the hosts of next year's Eurovision Song Contest in Düsseldorf: Anke Engelke, Judith Rakers and Stefan Raab.
Since a few weeks there have been rumours about Engelke and Raab to host the event. These rumours are now confirmed and we even have a third presenter, Judith Rakers.
Anke Engelke was born in Montreal, Canada in 1965. She is fluent in German, English and French. Since she was 12 years old, she has been present on the radio and television. For more than 20 years she has been singing in a soul band. The actress and comedienne has presented several big events, such as the European film award or the Berlinale. Engelke says that it is a big honour to her to represent the Eurovision Song Contest 2011. She has been an ABBA fan since their victory in 1974.
Judith Rakers (34) is a German journalist and presenter. She is one of the faces of the "Tagesschau" which is the biggest and most successful news show on German television. She also works for the NDR where she presents a talk show. Rakers explains that she always watched the Eurovision Song Contest with her family when she was a child. During her studies she was celebrating on Eurovision parties. She is very delighted to be a part of the presenter trio.
Stefan Raab (44) is well-known for most of the Eurovision fans. Four times he took part in the Eurovision Song Contest. In 1998 and 2004 he wrote the entries Guildo hat euch lieb for Guildo Horn and Can't wait until tonight for Max Mutzke. Horn finished 7th, while Mutzke reached the 8th position. In 2000 Raab sung himself. His song Wadde hadde dudde da finished in a remarkable 5th position. In 2010 he began his cooperation with the German broadcaster ARD to organize the German final "Unser Star für Oslo". This show became very popular in Germany. The winner of the show, Lena Meyer-Landrut, could finally win the Eurovision Song Contest with her song Satellite which was meant to be the second German victory since 1982. Raab is looking forward to host the Eurovision Song Contest 2011. He says that this will be the biggest highlight in his career.
The Eurovision Song Contest 2011 will take place on May 10th and May 12th with the two semi finals. The big final will be held on May 14th.