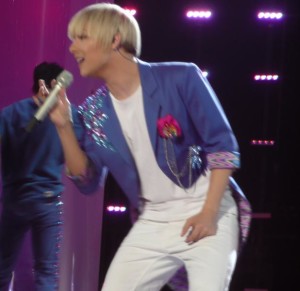 Milan Stanković may have finished a disappointing 13th in Oslo but he hasn't come away empty-handed from Norway. The good folks at the House of Eurovision website ran a competition to find the worst dressed 2010 contestant.
Milan claimed the victory ahead of competition from Albania, Moldova, Russia and Switzerland. He takes over the crown from the 2009 winner Zoli Adok who was the clear victor for Hungary.
Milan was dressed in a white t-shirt and trousers with a blue circus master-style coat with lots of beads on the right shoulder. That was even an improvement on the dusky pink t-shirt and blue trousers which he wore for his first few rehearsals in the Telenor Arena.
His backing singers' dresses may also have helped seal the win. The two ladies were clad in novel buble wrap dresses. His male dancers were also questionably dressed, wearing blue t-shirts with a multicoloured pattern and blue trousers.
The House of Eurovision website has been running the competition since 1997 when Debbie Scerri won for Malta in one of the most hideous dresses Eurovision audiences ever had to be subjected to. The award was inspired by Barbara Dex who represented Belgium at the 1993 contest in Dublin with Iemand als jij.
Milan now joins the illustrious ranks of former winners such as Guildo Horn (1998), Michalis Rakintzis (2002), Nonstop (2006) and Verka Serduchka (2007).