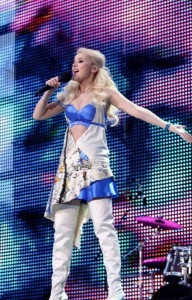 Mika Newton gave a farewell concert in Kiev at the weekend before departing for the Eurovision Song Contest in Germany.  She was accompanied by special guests including the 2011 Eurovision participants from Moldova, Austria, Azerbaijan, France and United Kingdom.
Ukrainian 2011 Eurovision singer, Mika Newton, hosted this big event in Kiev at Maidan Nezalezhnosti, the main square in the capital, Kiev.
An estimated audience of 200,000 watched the event.  Mika was proud to be joined by some other Eurovision acts from this year's contest.
Blue from the United Kingdom gave an outstanding performance of the entry, I Can.  The boys then wished Mika lots of luck in Germany.
Zdob si Zdub from Moldova sang So Lucky and they said how happy they were to be back in Ukraine performing.
The Austrian singer, Nadine Beiler, performed her entry, The Secret Is Love.  This is the 3rd time Nadine has met Mika having already met her in Vienna and Amsterdam.
Nikki & Eldar from Azerbaijan performed Running Scared to an excited audience.  They were both enjoying there promo tour of Ukraine where they had also performed on several tv shows.
Amaury Vassili from France demonstrated his amazing operatic vocals when performing Sognu.
Mika Newton then performed 2 songs.  First her uptempo hit, Anomaliya, and then her beautiful song, Angel, which she will proudly sing for Ukraine at the 2011 Eurovision Song Contest.
Some previous Ukrainian Eurovision singers also performed at this big concert that was shown live on First Channel, Ukraine.  Alexandr Ponomaryov, Ruslana, Alyosha and Anastasiia Prikhodko, who actually represented Russia at Eurovision.