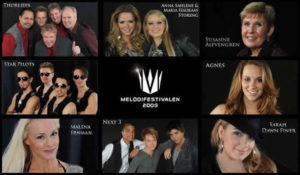 Sweden has come to its fourth preliminary heat which offers a duet between Anna Sahlene and Maria Haukaas Storeng. They will be up against other well known names like Sarah Dawn Finer, Agnes and Thorleifs. A one minute clip from each of the eight songs competing Saturday evening has now been released.  
These eight compete for two direct spots to the Swedish final and two second chance tickets.
1.    Agnes – Love love love
Agnes Carlssons big breakthrough came in Swedish Idol in 2005. Since then she has released 3 albums, "Agnes" (2005), "Stronger" (2006) and "Dance Love Pop" (2008). In 2008 she participated  the Swedish tv-show "Körslaget" and during Christmas season in 2007 Agnes and Måns Zelmerlöw was the faces for MQ (a Swedish chain of shops). In October 2006 it became clear that Agnes would participate in Melodifestivalen 2007, but as Agnes accidentally told a reporter about it during an interview the song was disqualified.
2.    Star Pilots – Higher
Johan Becker is the only one, from this band, that is known to the Swedish audience. He won the Swedish tv-show "Fame Factory" in 2004. He wrote Sandra Dahlbergs song Här stannar jag kvar from 2004 (he was in her choir as well) and he participated together with Carl Martindahl (Their group name was The Wallstones) in 2005 with the song Invisible people.
3.    Susanne Alfvengren – Du är älskad där du går
Susannes big breakthrough was in 1984 with the song Magneter. In 1984 she also had a big hit with the song När vi rör varann which is the Swedish version of Sometimes when we touch .The song Som stormen river öppet hav is a duett between Mikael Rickfors (from last week) and Susanne Alfvengren and it was the title song to the movie "En film om kärlek" in 1987. This is her debut in Melodifestivalen.
4.    Anna Sahlene & Maria Haukaas Storeng – Killing me tenderly
Anna Sahlene is no stranger to Melodifestivalen since she has participated two times. 2003 with the song  We're unbreakable, 2006 with the song This woman. She has also participated in Eurovision Song Contest, but that time for Estonia with the song Runaway (2002). As a child Anna played the character Anna in "Alla vi barn i Bullerbyn" a movie based on Astrid Lingrens book with the same name. 2007 Anna participated in the Swedish tv-show "Let's dance".
Maria Haukaas Storeng needs no introduction either as she represented Norway in the 2008 Eurovision Song Contest with the song Hold On Be Strong. This year she has been hosting the Norwegian selection which ended last weekend.

5.    Thorleifs – Sweet kissin' in the moonlight
Thorleifs is very well known to the Swedis audience. They were formed in 1962 and has had a successful career ever since. Over the years they have had a number of songs at "Svensktoppen": Gråt inga tårar, Ingen får mig att längta som du, Du gav mig kärlek just to mention a few of them. This is their debut in Melodifestivalen.
6.    Sarah Dawn Finer – Moving on
Her big breakthrough was in Melodifestivalen 2007 with the song I remember love. The song is written by Fredrik Kempe who has written four of the songs this year, two of them competing against each other in this fourth semi-final.
7.    Next 3 – Esta noche
This band consist of three young guys: Jimmy Almgren, Adam Soliman and Gonzalo Flores. They all all three students which also match with their young age. Adam is only 16 and Jimmy is 17 years old.
8.    Malena Ernman – La voix. Malena is opera-singer and has no previous Melodifestivalen experience. The songwriter Fredrik Kempe however has lots of experience. One of his many Melodifestivalen songs has won; Hero sung by Charlotte Perrelli last year. 
Below you can listen to a minute clip from all eight songs.
Links