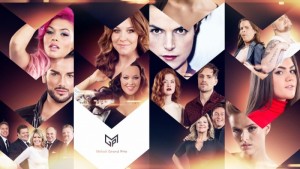 Today Norwegian broascaster revealed the 11 acts that will take part in the national final in March. Two former Eurovision Song Contest artists are back for a duet, just as the orchestra is returning, so it looks promising in terms of an interesting competition. 
Norwegian broadcaster, NRK, dropped the semi-finals for this year, so we will only have one big final of Melodi Grand Prix. That final will however be interesting as the orchestra has been brought back in the way that the participating artists themselves decide if they want to use it or not on their entry.
The 11 acts revealed today shows comeback to Elisabeth Andreassen (Bettan) and Tor Endresen in a duet on the song All Over The World. Together they have a total of 22 national entries behind them, and both made it to Eurovision before. Elisabeth even won before; in 1985 as a part of Bobbysocks performing La' Det Swinge. Tor might look back on his Eurovision participation with less good memories as he achieved zero points in 1997 with the song San Francisco. 
Melodi Grand Prix 2015 participants:
Alexandra Joner – Cinderella
Contrazt – Heaven
Erlend Bratland – Thunderstruck
Ira Konstantinidis – We Don't Worry
Jenny Langlo – Next to You
Karin Park – Human Beings
Marie Klåpbakken – Ta Meg Tilbake
Mørland & Debrah Scarlett – A Monster Like Me
Raylee – Louder
Staysman & Lazz – En godt stekt pizza
Tor & Bettan – All Over the World
The Norwegian final will be held on the 14th of March live from Oslo Spektrum. Small clips from the songs can be heard on 
NRK's website
.