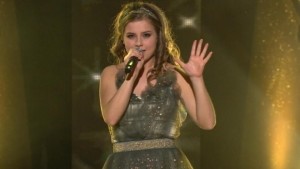 After two semi-finals time had come for Iceland to pick their representative for the 2015 Eurovision Song Contest. 7 acts competed in the final of Söngvakeppnin, but their could be only one winner. After some tense moments that ended up being María Ólafsdóttir singing Unbroken.
Seven acts in tonight's final of Söngvakeppnin had qualified from two semi-finals and after those a wildcard to the none qualifiers were handed out. This went to Haukur Heiðar Hauksson with the song Milljón Augnablik. 
The songs:

CADEM – Fly
An uptempo pop song which includes elements from dance as well as funk. It is well performed, but it it is not what you expect from an Icelandic entry, which can both be good and bad, and question is if this will be able to convince the TV viewers.

SUNDAY – Feathers
Here we have a song that is a lot more what is expected from Iceland. It is quiet, myserious and sung with a fragile female voice which has that odd thing that it is secure yet you have the feeling that it can break any time.


Björn & Friends – Piltur og stúlka (Boy and girl)
This four piece group is one to watch out for. It is a ballad with a very catchy pop chorus. It is very Nordic in its sound, in fact it sounds like something you would hear in a Norwegian final. Don't be surprised if this does well.


María Ólafsdóttir – Unbroken
This 21 year old girl has a very secure voice on this song that starts quiet out, quickly builds up and the last minute really demonstrates the voice of the singer. A song that makes you feel entertained so don't rule it out even if it at times become a bit bland.
Elín Sif – Dance Slow
We are back in the Icelandic music tradition with this song that has elements from folk music, and a girl with a fragile, yet secure voice. A 16 year old girl and her guitar. She is the girl next door so sweet and innocent as she looks on stage, and this is simply beautiful. A very strong contender to win.
Friðrik Dór – Once Again
A powerballad, which sounds fantastic at times, but unfortunately promises a bit more than it delivers at other times. This has the potential to be totally outstanding and blow everyone away, but it annoyes you that it is missing that little extra thing to make it complete.

Haukur Heiðar Hauksson – Milljón Augnablik (Million moments)
If you like drums, this one gives you plenty of it. So much that at times you really think it is taking over the song, which unfortunately then becomes a bit bland, which is a shame as it has a bit of the same feeling as the Maltese 2014 entry.
The contestants had all sung in Icelandic in the semi-finals, but for the final they had to change to the language which they will perform at for Eurovision should they win. Five of the seven acts went for English, while only Björn & Friends and Haukur Heiðar Hauksson kept their song in Icelandic.
The show: 
Tonight's show took place at the Haskolabio venue in the Icelandic capital, Reykjavík. Hosts were Ragnhildur Steinunn Jónsdóttir, Guðrún Dís Emilsdóttir and Salka Sól Eyfeld. 
258 songs that was what the Icelandic broadcaster had to chose among. 12 of them made it to the semi-finals and then seven were left for tonight's final. After they had performed in the first round tonight they met up with the greenroom host for a bit of relaxing chit-chat.
A sketch showed clips from several former Eurovision entries, and some of them were marked as scammers, those were the ones not actually from the country they represented.
Former Icelandic finalists then took the stage singing their entries. This included Magni, Jokvan, Pall Rosinkranz, Fridrik Omar and Bjarni Ara. At the end of this all of them were on stage singing together.
Before the winner was announced clips from other countries were shown such as the Danish entry The Way You Are by Anti Social Media, the Maltese entry Warrior, but also clips from the Australian interval act at the 2014 Eurovision Song Contest.
An interview with Peter Fenner took place in the studio, British fan who has written English lyrics to several of the Icelandic entries. He was asked about his Eurovision knowledge and interest, just as Pollapönk were interviewed in the greenroom.
The voting: 
A 50/50 combination of jury and televoting selected the top two entries for a special super final. Another round of voting took place in order to find the winner of those two songs. In this second round only televoting were in place.
The jury consisted of five people, of which two have former Eurovision experience, Yohanna and Stefán Hilmarsson :
Yohanna, singer who represented Iceland in the 2009 Eurovision Song Contest
Stefán Hilmarsson, singer. He represented Iceland in 1988 and 1991
Einar Bárðarson, radio host and music manager
Sigríður Thorlacius, singer and composer
Valdimar Guðmundsson, singer
Through to the super final were Friðrik Dór singing Once Again and María Ólafsdóttir and her Unbroken. They performed their entries again with the voting window shortly open and then it was time to announce the winner that received flowers from Pollapönk: María Ólafsdóttir. 
Iceland at the Eurovision Song Contest:
When Iceland joined the Eurovision Song Contest in 1986, they were the last Nordic country to do so. The country has scored rather mixed results at the contest with two second places in 1999 and 2009, but also missed out on the final three years in a row from 2005 to 2007. 
Last year the country was represented by Pollapönk, which came 15th in the final with the song No Prejudice.