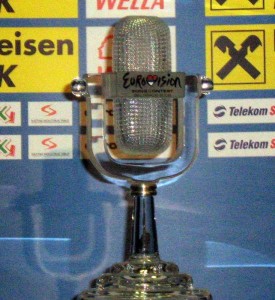 After having qualified for the final, the first ten qualifier had to pick a number that would be their starting position in the final. EuroVisionary brings you the exiting moments on video so you can see how the ten participants reacted to their lucky number.
Romania might not exactly have been lucky when picking starting position number one for the final, but Vlad chose to see it from the bright side. They had the same starting position for the Romanian final and that didn't exactly do them any harm.
As it can be seen on the video the most happy ones are without doubt Russia's Dima Bilan and Noway's Maria. Both were very satisfied drawing a number at the end of the 25 songs. The interesting thing is now that the last seven starting positions have been taken and except from position three all ten qualifiers from the second semi-final will be going in the middle not mixing the song very much.
Running order for the final (After 1st semi-final):
1. Romania
2. The United Kingdom
3. (Second semi-final qualifier)
4. Germany
5. Armenia
6. Bosnia & Herzegovina
7. Israel
8. Finland
9. (Second semi-final qualifier)
10. Poland
11. (Second semi-final qualifier)
12. (Second semi-final qualifier)
13. (Second semi-final qualifier)
14. (Second semi-final qualifier)
15. (Second semi-final qualifier)
16. (Second semi-final qualifier)
17. (Second semi-final qualifier)
18. (Second semi-final qualifier)
19. France
20. Azerbaijan
21. Greece
22. Spain
23. Serbia
24. Russia
25. Norway