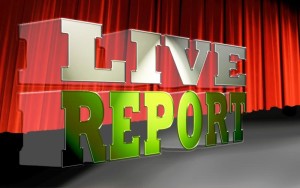 Hello and welcome in to EuroVisionary's live coverage of what looks set to be one of the closet fought finals in may years.  We'll be covering all tonight's proceedings with a blow by blow account.  I think it's safe to say that we're in for an exciting evening.
20:00:00
Tonight's show begins pretty much the same as the two semi final shows with the seventies style choir singing Te Deum but in red and blue this time.
Marija Serifovic starts us off with a reprise of her winning song from 2007 'Molitva' acapella which then turns into a dance version and she is joined by a bride who turns into a groom then all the dancers are dressed as both Brides and Grooms at the same time! Marija now sings a new song called 'Tell me why'. The dancers are now in pink hot pants and skimpy tops.  She then has the honour of presenting the hosts which seems a bit backward but what the hey!  Our hosting team Jovana Janković and Željko Joksimović then take the chance to get the usual host babble out of the way.
20:08:32
ROMANIA
Nico & Vlad start us off tonight with what many will see as an dark horse for the victory.  Romania has had several good results since 2002 but fell on hard times last year after Todomondo's poor result.  Vlad had a little trouble with his microphoone at the start but it seems to have been sorted out.  Nico has decided to change her dress for tonight performance, she is now wearing a knee length silver dress.  The vocals are nigh on faultless as usual and will probably do well with countries who have to use juries instead of televoting (eg San Marino, Andorra and Albania).
20:13:46
UNITED KINGDOM
I doubt if the Brits can get any more unlucky with regard to draw position, they are no strangers to performing in the number two spot.  However we have seen from both semi finals that the curse of number 2 may be waining as both entry sung in that spot qualified for tonight's final.  No one is denying that Andy can sing and that the stage setting is excellent but it seems that Andy has taken a some what cynical approach to the contest.  In several interviews he has said that this is a very Eurovision song in that it has a retro feel and that it's very happy, neither of which is a good feature when trying to win the competition.  Andy sings this excellently and as many have already said his suit is reminiscent of Cliff Richard's '68 outfit. 
20:17:19
ALBANIA
Olta has been gaining confidence as the past week has wore on and tonight is no exception.  Her vocals are just fine and the heart themed backdrop looks fantastic.  Her outfit is the same as the semifinal and is slightly lost in some shots against the stage.  Singing at number three will do this no favours come voting time as in the past few years the third spot has been gradually inheriting the curse held by number 2.  A good entry overall.
At the start of this entry Dustin joined RTE commentator Marty Whelan in his commentary box to talk about when his turn was. Marty had to convince Dustion that that was Turkey the country and not him.
20:21:36
GERMANY
Germany has had an ill form of late and by all account it's not likely to change this year.  No Angels vocal performance is quite weak and the overall effect of the performance is a bit underwhelming.  There are a lot of fireworks afforded to this entry but they really don't add an awful lot. 
20:24:57
ARMENIA
This is a fan favourite but many have been disappointed with Sirusho's live performances and while this vocal outing is marginally better than in the semi final it still borders on shouting at points.  The stage show is quite plain but her tassle dress, which she wore in the first semi final, is very impressive. Not since Salomé n 1969 has so tasslely a dress been seen on a Eurovision stage.  HUGE chher from fans.
20:28:28
BOSNIA-HERZEGOVINA
Laka and his sister are, as I said on Tuesday, probably the most crazily cool people ever to compete in Eurovision.  This is a great entry, you may not appreciate the music but no one can fail to be excited by their stage show.  It makes this song stick in your mind and may just have helped Laka to make it to tonight's final. Big reaction from the audience throughout!
We go outside to have a look at the crowd outside Belgrade City Hall.
20:32:30
ISRAEL
Israel now and Boaz is wearing that odd mix of trousers and waistcoat that he did on Tuesday.  The vocals are great on this one but I think this could struggle to reach the top ten, it doesn't have the same enormous impact that Shiri Maymon had in 2005.  There is a large applause for this from the auditorium.  Boaz has one odd button on his waistcoat, is it for luck or did one just fall off?
20:38:09
FINLAND
Terasbetoni take to the stage now and this is performed as well as it was on Tuesday which could spell more success for the Finnish rock band.  This is a very impressive entry and yet another song that benefits greatly from it's stage act. 
20:41:21
CROATIA
Kraljevi Ulice & 75 cents begin their slightly odd act and you just know this will appeal to a wide audience.  The stage show's a bit mad but it gels quite well with the song which itself is slightly infectous.  This one could go either way, this is the hardest Eurovision final to predict in so many years.
20:45:20
POLAND
Isis takes to the stage for the second time this week and the stage performance is as powerful as the first time out.  This song is guaranteed points from Ireland.  I think that, while the song is good, it may fail to make the top ten.
20:49:01
ICELAND
Fridrick and Regina start their energetic dance number to great expectation in the hall.  This is a massive fan favourite, I'd be very surprised if this didn't get the good result that's expected of it.  This is one of the most powerful combinations of vocals and stage show in this year's contest, it works so well that you could almost imagine that it's a professionally produced music video.
20:53:15
TURKEY
Mor ve Otesi will have quite a job to make theirs the first Turkish sung song ever to win the contest.  Their entry is as good as when it was first performed, it is a less in your face rock song than Finland's but the dancing and hopping in the last 10 seconds or so does manage to help viewers remember it. 
AD BREAK or GREEN ROOM VISIT depends which country you're watching from
20:58:02
PORTUGAL
If Iceland is a fan favourite then Portugal is THE fan favourite.  This girl knows how to sing and it is so simply and beautifully presented. The odds on this song took a tumble in less than a few hours from 100/1 down to 25/1. I think this one has the makings of at least a top 6 finish. Could it be Lisbon 2009?
21:03:26
LATVIA
Latvia now and coming after a song that so many were happy to see qualify comes the song that so many were shocked to see qualify.  It is childish, they are a bit out of tune and the outfits do border on the silly but it is extremely infectious. This could shock everyone yet again and finish in or near the top ten, then again maybe it'll fall flat on it's face.
21:07:02
SWEDEN
Sweden's entry looks as professional as ever.  Charlotte gives the usual polished performance and even though this is another fan favourite I think Sweden could be destined for their usual top 6 finish.
21:11:28
DENMARK
Another surprise finalist but not really, the Danes have a habit of doing well when not expected to.  Jackob Sveistrup managed a top ten in 2005, I see little reason why this won't do as well or nearly as well. It's the same stage show as on Thursday.
21:14:13
GEORGIA
It is always difficult to have a blind singer with several people dancing around them.  It is a powerful song but the lyric while nice and simple can be a bit too sweet at times.  The change from black to white is THE MOST EFFECTIVE COSTUME CHANGE this year.  This could well be  top 10 contender.
21:18:02
UKRAINE
This is the most impressive stage show of the whole contest, it is just seamless and just makes the song so much better.  If we aren't heading to Russia next year then I think a return visit to Ukraine is on the cards. Huge applause for Ani.
21:22:03
FRANCE
Sebastien takes to the stage on a golf buggy now and this is a very catchy number, all the backing singers wear wigs and beards to resemble Sebastien I think.  He then inhales helium from a balloon in the shape of the world to make his voice squeaky and there are a few missed camera shots.  It's all very strange but I wouldn't be surprised if this did well, I would also not be surprised if it did abysmally.
21:26:39
AZERBAIJAN
Elnur and Samir have an impressive stage show but I have my doubts as to whether this will be received positively or not.  It appears the props didn't manage to work this time either but you get the feeling that the show is enough without it.
21:31:09
GREECE
Greece impressed many of it's doubters on Tuesday evening and I think judging this performance their guaranteed a top 5 finish.  The act is the same as on Tuesday and the stage backdrop , which is a multicoloured cityscape, looks fantastic.  The book is a little unnecessary but is a surprise nonetheless.
21:34:09
SPAIN
Can Spain buck their trend of doing badly at the contest, who knows?  This is funny enough but I can't see many people getting the joke but I could be wrong as usual.  There are very audible boos from the audience but there is also a lot of cheering.  He has a couple of lines in French in this version.  He has his two usual dancers with him and three more that he recruited on the special TV show.
21:38:14
SERBIA
HUGE CHEERS for this one. Jelena sings it beautifully as usual, she is dressed in silver and starts the song with two dancers at her feet and tree musicians around her.  Moon in the backdrop and this is giving me a major deja vu.  Think Serbia & Montenegro 2004 and you'll be close enough to the stage show.
21:41:29
RUSSIA
The bookies favourite to take the crown on stage now.  The act is pretty much the same as on Tuesday, not much else to say really.  Will he be the first bare foot winner since 1967?  This'll be hard to beat.
21:46:11
NORWAY
Another one that enjoys big fan support.  Maria gives another polished performance.  Norwegians will be hoping for their first successful finish since 2005.  You'd swear that the vocals weren't live, but that's just a testament to her voice.  It's hard to know what to expect from this one.
21:50:19
Our hosts have another chance for some chat.  The famous Serbian basketballer now takes the stage to start the voting.  He throws the basketball into the audience and the clock ticks down from 15 minutes.
22:06:23
We've been treated to two recaps and some more friendly chat.  Now the hosts count down in Serbian and introduce the interval act 'the orchestra for weddings and funerals', that's according to Zeljko so sit back relax and wait for the voting to begin, we'll be back in a few minutes.
22:17:29
The interval is over now and it's time for anothr geen room visit with our over zealous hosts.  They talk to Germany and Ukraine. Now a chat with Svante Stockselius.
22:20:45
UK
8pts Turkey
10pts Latvia
12pts Greece
FYR MACEDONIA
8pts Azerbaijan
10pts Serbia
12pts Albania
UKRAINE
8pts Georgia
10pts Azerbaijan
12pts Russia
GERMANY
8pts Serbia
10pts Turkey
12pts Greece
ESTONIA
8pts Norway
10pts Finland
12pts Russia
BOSNIA-HERZEGOVINA
8pts Turkey
10pts Croatia
12pts Serbia
ALBANIA
8pts Ukraine
10pts Turkey
12pts Greece
BELGIUM
8pts Greece
10pts Turkey
12pts Armenia
SAN MARINO
8pts Armenia
10pts Israel
12pts Greece
LATVIA
8pts Georgia
10pts Ukraine
12pts Russia
BULGARIA
8pts Armenia
10pts Greece
12pts Germany
SERBIA
8pts Greece
10pts Russia
12pts Bosnia-Herzegovina
ISRAEL
8pts Armenia
10pts Ukraine
12pts Russia
CYPRUS
8pts Russia
10pts Armenia
12pts Greece
MOLDOVA
8pts Azerbaijan
10pts Russia
12pts Romania
ICELAND
8pts France
10pts Norway
12pts Finland
ROMANIA
8pts Turkey
10pts Russia
12pts Grece
PORTUGAL
8pts Latvia
10pts Spain
12pts Ukraine
NORWAY
8pts Iceland
10pts Bosnia-Herzegovina
12pts Denmark
HUNGARY
8pts Greece
10pts Russia
12pts Azerbaijan
ANDORRA
8pts Greece
10pts Portugal
12pts Spain
POLAND
8pts Norway
10pts Ukraine
12pts Armenia
SLOVENIA
8pts Croatia
10pts Bosnia-Herzegovina
12pts Serbia
ARMENIA
8pts Greece
10pts Georgia
12pts Russia
CZECH REPUBLIC
8pts Ukraine
10pts Azerbaijan
12pts Armenia
SPAIN
8pts Portugal
10pts Armenia
12pts Romania
NETHERLANDS
8pts Serbia
10pts Turkey
12pts Armenia
TURKEY
8pts Ukraine
10pts Armenia
12pts Azerbaijan
MALTA
8pts Russia
10pts Ukraine
12pts Sweden
IRELAND
8pts UK
10pts Poland
12pts Latvia
SWITZERLAND
8pts Albania
10pts Portugal
12pts Serbia
AZERBAIJAN
8pts Russia
10pts Ukraine
12pts Turkey
GREECE
8pts Spain
10pts Albania
12pts Armenia
FINLAND
8pts Israel
10pts Russia
12pts Norway
CROATIA
8pts Albania
10pts Serbia
12pts Bosnia-Herzegovina
SWEDEN
8pts Iceland
10pts Bosnia-Herzegovina
12pts Norway
BELARUS
8pts Azerbaijan
10pts Ukraine
12pts Russia
LITHUANIA
8pts France
10pts Latvia
12pts Russia
RUSSIA
8pts Ukraine
10pts Azerbaijan
12pts Armenia
MONTENEGRO
8pts Russia
10pts Bosnia-Herzegovina
12pts Serbia
GEORGIA
8pts Russia
10pts Ukraine
12pts Armenia
DENMARK
8pts Sweden
10pts Norway
12pts Iceland
            OVERALL
1st RUSSIA       272pts
2nd UKRAINE     230pts
3rd GREECE       218pts
4th ARMENIA    
5th NORWAY