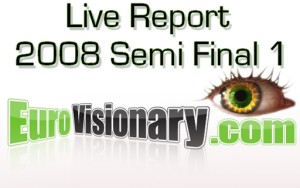 Hello everybody and welcome to EuroVisionary's live coverage of Eurovision 2008.  My name is Denis and I'll be bringing you a constantly updated review of tonight proceedings.
As you all will know already this is the fist ever year that two Semi Finals are to be used and the new system will be put under major analysis by the organisers and fans alike to see if it has rectified any of the problems that many feel have come about since the introduction of the first Semi Final in 2004.
And so it starts, we have a version of Te Deum from a choir that's meant to look as if it came straight from the 70's. Now we get trumpet versions of of Eurovision classics like 'Congratulations', 'Waterloo' and 'Nel blu di pinto di blu'. It is now time for our hosts to welcome us to Belgrade after 25 years of waiting according to Joanna.
Time for the first of 19 entries tonight
Montenegro
Stefan sings note perfect but the quality of the song is unlikely to impress many viewers.  He wears leather trousers and a white t-shirt with red hand-prints all over it. He also wears what looks like a bed sheet as a shirt. Overall it is very nicely presented but will need a lot of luck to get to the final.
Israel
Now for song number 2 or the unlucky draw a many see it. Boaz wears an odd match of a sparkling silver waistcoat and light grey slacks. Even if this hadn't been labelled at the start you would instantly know it was an Israeli entry when you see the synchronized dancing of the backing singers. Should do well enough.
Estonia
It's time for our first joke entry of the night.  The guy in the blue suit must have an extremely sore throat, he sounds as if he is straining to even utter a syllable.  This comes across very well on TV and it cannot be forgotten that it is very catchy song.  The false endings also help to keep in in ones memory.  We have our first audible booing of the night, no too loud but it's there.
Moldova
Geta takes the stage now and it is nearly a stranger sight to see a couch on the Eurovision stage than anything in Estonia's act.  The use of the wind machine is totally unnecessary.  It's a nice song that people will struggle to be remember come voting time.
San Marino
We have one of two newcomers on stage now.  The band all look good, but Nicola should've re-thought his hair cut, it does him no favours. San Marino definitely benefit from coming after Moldova as it has made their song sound much better.  The soaring camera shots really suit the song and this could sneak it and qualify.  It has to be remembered that new nations usually benefit from a general feeling of goodwill.  The backing dancer in white provides a great contrast.
Belgium
This is the best use of the stage so far tonight.  The lead singer still looks a bit like a looney on the run from the authorities butthe entry does have a playful side.  She sounds very out of breath at points during the song, but the audience participation is the best so far, clapping from them can be heard and it get's the biggest cheer of the night.
If you're watching the coverage on BBC3 then you are now being treated to an interview with Andy Abraham who is generally positive about his experience so far.  He thinks his song is "a class apart" and it has "an uplifting vibe".
Azerbaijan
I'll be honest with you before I say anything about this, I have a strong bias against it, I don't like it, plain and simple.  I have to admit that it is the most dramatic stage presentation thus far. Elnur is struggling with some of his parts if my ears aren't deceiving me.  The lyrics are very hard to understand and you may not instantly recognise it as being in English.  When Samir changes to white from his black costume it is  bit underwhelming.  The fireworks don't impress as much as they should.  This will definitely be in the final, mark my words.
Slovenia
Very loud cheering from the audience for this one. It's a complete mess though, it's looks as if they employed a colour blind designer.  I couldn't say I loved the song to begin with, but it grew on me.  Now the situation is that it looks like the evil characters from a fairytale have come together for a sing-a-long and the music is really struggling to shine through.  I would seriously doubt if we'll see this one on Saturday.
Norway
Norway now and this is impressive, I would love for Maria to do well.  It is the most traditionally presented Eurovision song of the night up until this point. Her voice is on top form and the whole stage act works.  Unlike with Moldova the wind machine does make a difference here. The synchronized dancing makes a perfect end to a simply performed song.  This is going to the final….. hopefully.
Poland
Poland have just overtaken Belgium in the running for the award for best use of the stage. A simple white and blue with a cloud effect makes for a heavenly setting. Poland may well be on track for the first good result since 2003 if they are not careful.  There's a lot of cheering from the fans during the whole song.  She struggles a little bit on one of her final high notes.
Ireland
It's now time for some unfettered national pride so excuse me if I am a little biased.  Kitty B, Ann and Dustin take the stage to the loudest reaction of the night.  It's a mix of booing and cheering! The vocals are as 'good as usual'.  It's definitely the most upbeat song of the night till now.  The camera work is messy but I'd be surprised if it makes a difference to the voting public.  "Did we win" he says at the end and it is accompanied by the loudest boos I have ever heard at ESC, but it didn't seem to harm Lithuania in 2006.
Andorra
What was Gisela thinking when she chose her outfit, she looks like Xena Warrior Princess.  The copper Corset looks ridiculous.  By all account Gisela wasn't singing the best throughout the rehearsals but she seems to be fairly good tonight, I would doubt if Andorra are heading for their first final though.  The setting of the stage is very lacklustre, they could have done more and made it more impressive.  The backing vocals were almost inaudible for most of the 3 minutes.
Bosnia-Herzegovina
Never mind what I said about the Belgian singer Laka and his sister take the title of the craziest people ever to take the Eurovision stage.  This is the most impressive stage show so far.  I'd be surprised if this didn't get to the final.  Laka appears from a washing basket at the beginning and that just sets the tone for the whole performance.  The clothes lines that spells out love is a perfect ending.
Armenia
Many feel that this is a possible contender for victory but personally I'd be shocked if it even came close.  She shouts throughout the song and the choreography is distracting and fails to add to the entry completely.  It looks a little bit too much like they have tried to copy Greece's 2005 stage routine.  The song is catchy and it will most probably go to the final as Armenia have a lot of friends.
Netherlands
Hind looks a bit frumpy in that dark blue dress and knee-high boots but the song is overshadowing Armenia at the moment.  The chandelier in the backdrop looks great and the dance moves that she does attempt are done well.  Her vocals are great and she doesn't strain them by doing unnecessary dancing.  Could Hind take the Netherlands to their best result in years?….. at the moment it's looking like a borderline possibility.
Finland
It's now time for last year's hosts.  This is very well presented.  I like rock music and Finnish rock music is just a breed all of it's own.  This is how Kabat should have tackled the contest last year.  This may just qualify
Romania
We are into the final stretch now and the most likely countries to win.  I think Romania is going to challenge for the title.  They are going to the final without any doubt.  Nico's frock looks a bit scary but all the vocals are great. Bucharest 2008 anybody?
Russia
Is this our winner, it seems inevitable but they haven't won it yet.  The stage presentation is very good and make a standard song look very good.  Dima does a lot of rolling about on the stage.  At least he doesn't still have the mullet that he was sporting in 2006.  When Dima joins the violinist and skater on stage it looks very crowded.  This is a certain qualifier.  When the trio kneel on the stage at the end it looks very false.
Greece
We're back after the ad break and the stage is awesome. I think this could finish up in the top five overall and is another sure qualifier.  The book gimmick works very well but I don't know whether it was worth coming after the ad-break for. Kalomira is able to maintain a great vocal performance even though she dances the whole way through.

The voting begins and it is time for our first reprise of all 19 songs.
Here are the qualifiers in no particular order:
Russia
Romania
Greece
Bosnia-Herzegovina
Finland
Israel
Azerbaijan
Armenia
Poland
Norway