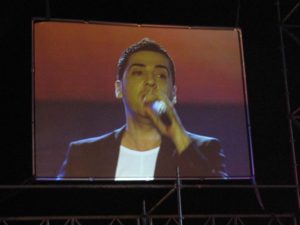 On Friday night there was an amazing concert at the Kalemegdan Fortress in Belgrade. A number of artists that have participated in Eurovision Song Contest performed new songs, as well as songs they've competed with in the contest.
Among the artists, you could find last years winner Maria Serifovic, Zeljko "Lane Moje" Joksimovic and Ruslana. The first artist to perform was Maria Serifovic performing her winning song "Molitva" and two other songs. Next up was Zeljko Joksimovic performing a number of songs, finishing with his song from Eurovision Song Contest 2004 "Lane Moje" and all of the audience sang along with him.
Ruslana and her dance crew performed a number of songs from her new show "Wild energy". Before she left the stage, she asked the crowd to sing "Wild Dances" ,her winning song from 2004, with her, which we were all glad to do. Last of the legends to perform was Dana International, winner of Eurovision Song Contest 1998 with the song "Diva". Last but not least we got to enjoy the Azerbaijan artists Elnur and Samir and this years entry "Day After Day". It really was a lovely night with a lot of great artists, it was indeed the legends and sensations of Eurovision.
EuroVisionary would like to thank Viktoria Karlsson for this article.