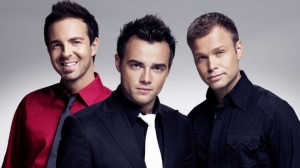 Tonight it was time for the Norwegian population to judge among the last seven acts with a chance to represent the county at the 2010 Eurovision Song Contest. International boyband A1 were among the names who tried to qualify directly for the final on the 6th of February.
The previous two weekends a total of 14 songs have been presented to us. Four of them impressed so much that they went straight to the Norwegian final while yet another four has been given a second chance to qualify. In the third and last of the regular qualifying heats it started all over – for the last time. Seven new songs were performed live on stage and the Norwegian TV viewers had to select two for the final and another two for the second chance show.
Song 1: Mira Craig – I'll Take You High
The Norwegian/American singer and songwriter Mira Craig is no stranger to Melodi Grand Prix as she wrote Hold On Be Strong which Maria Haukaas Storeng sang to victory in Norway and a 5th position at the Eurovision Song Contest in 2008. Mira is also one of the expert judges in the Norwegian version of X-factor.
Mira is alone on stage wearing a long white dress with such a long tail that even the largest wedding dresses would be jealous. It is a ballad which doesn't quite get anywhere. Near the end of the song she is liftet up in to the air with her tail being like a tent over the stage.
Song 2: Fred Endresen – Barracks On The Hill

Last year Fred managed to qualify for the Norwegian final together with his band Publiners. This year he is trying solo with a song he wrote himself together with Olaf Øwre. Fred works as a producer in his daily life, but he enjoyed the Contest so much last year that he simply had to try again.
Barracks On The Hill is a rock song with a few hints to country music. Fred is dressed like a rock musician in tight black jeans and a black shirt. He is supported by three female and two male choir singers and dancers. Fred is comfortable on stage and quite charming which should help him with a few votes as well.

Song 3: Belinda Braza – Million Dollar Baby
Belinda Braza is 28 years old and she has been on the Eurovision Song Contest stage before. That was in 1998 when she at the age of 17 was a dancer for Stig Van Eijk, first at the Norwegian final and later also at the international Contest. Since that she has had her own TV program and been in various musicals and shows. The song is written by Robin Nordahl, Frode Andersen and Gerard James Borg. The latter being a well known Eurovision Song Contest songwriter who has participated in 31 national finals in countries like Bulgarian, Belgium, Iceland, The Netherlands, Romania, Norway and his come country Malta. His songs have taken part in the Eurovision Song Contest five times.
Belinda is in ashort green dress and supported by three male dancers in black and white. She sings about being like Jackie O and Marilyn Monroe, but this pop song won't make her like that. It is nice enough, but a song which will easily be forgotten.
Song 4: Didrik Solli-Tangen – My Heart Is Yours
Didrik is a 22 year old opera singer. He is studying at the music conservatory in Oslo where also last year Eurovision Song Contest winner Alexander Rybak is studying. Didrik is however not entering Melodi Grand Prix with high ambitions to win; he takes it as a chance to present himself. The song is written by Hanne Sørvaag, who co-wrote Disappear which represented Germany at the 2008 Eurovision Song Contest performed by No Angels, and Swedish singer and songwriter Fredrik Kempe, who wrote La Voix, Sweden's entry to last year's Eurovision Song Contest.
Didrik is dressed in black and white and supported on stage by five violin players; four females and one male. If you like strong powerballads this is the song for you! It is so beautiful and would be a very strong contender in the 2010 Eurovision Song Contest. 
Song 5: The Diamond – European Girl
The Diamond is a band consisting of six young Norwegian guys; Mathias Tellez, Håkon Njøten, Axel Vindenes, Kim Furuhaug, Thomas Sævig and Stian Sævig. The song is written about Håkon's personal experience when he travelled around in Europe trying to find love. Despite having millions of girls to choose among he didn't managed to find her and now he is back to starting point!
These guys tries to appear like a modern version of the Beatles with a few dancemoves from Michael Jackson, but their clothes and the ballons makes it too silly. The song is easy to sing a long to, but it shouldn't be strong enough to qualify for the Norwegian final. Should it win in Norway this will in Europe be seen as a joke-act though it is actually seriously meant.
Song 6: Karoline Garfjell – Tokyo Night
24 year old Karoline reached the semi-final in the Norwegian edition of Idol in 2004. After that she started studying music. She has mainly been singing pop and jazz so this Electronic song is quite a new genre for her, but as she likes to try new things she is looking forward to singing it on stage in the Norwegian final. The song is written by Aggie Peterson, known as singer in the electronic band Frost.
Karoline is dressed in a short red 80's like dress. She is supported on stage by five female dancers – one of them wearing an A-HA t-shirt. She is singing that "TV can be fun, but not tonight", but for her let's hope that the TV viewers don't agree with that as she is going to need all the votes she can get.
Song 7: A1 – Don't Wanna Lose You Again
This Norwegian/British boy band is quite well known across Europe, but it is the first time they try reaching the Eurovision Song Contest. The band consists of Christian Ingebrigtsen, Mark Read and Ben Adams. Their first album from 1999 reached gold status in the UK, two singles from their second album made it to the top of the charts and their third album came in 2002. Since that it has been a bit quite around the band, but now they are ready to enter the charts again with this song, which they wrote themselves.
A1 is back with this pop/rock song although it isn't quite as strong as their previous hits, but it shouldn't have any problems qualifying directly for the final – and it sounds sure to reach top 5 there, but to me it doesn't sound like a winning song.
To the second chance contest are Mira Craig and Karoline Garfjell. On Monday the two best 5h positions from the three regular heats will join the six acts so far qualified for the second chance round. 
Direct to the final are first A1 and then Didrik Solli-Tangen. Below you can hear and see the two songs that went straight to the Norwegian final.