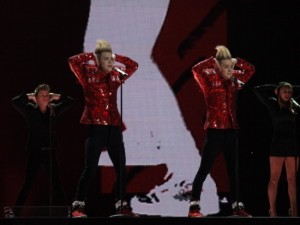 The final dress rehearsal of the second semi final started at 15.00 o'clock. It was the last chance for the participants to get everything well prepared for the live show tonight. Just like during the 3rd dress rehearsal of the first semi final, most of the artists wore casual clothes instead of the ones which they will wear during the live show.
Note: The opinion expressed in this article are those of the author and are not necessarily the one of EuroVisionary.com   
1) Bosnia & Hercegovina – Dino Merlin – Love in rewind
As in all rehearsals before Dino gives a very relaxing and vocally perfect performance. Except of being more an uptempo song this song is quite emotional for me, especially at the end when they all stand together waving to the audience and the pyrotechnics are used. This will qualify for sure – due to the quality and of course due to Dino's popularity around the whole Balkan.
2) Austria – Nadine Beiler – The secret is love
Nadine presents this classy ballad very well. She gives one of the best vocal performances in this line-up. I am sure the televoters as well as the juries will love this, but will starting number 2 help her to get through to the final?
3) The Netherlands – 3Js – Never alone
When I heard this for the first time, I was quite sure that the Netherlands would qualify with this song. If not with this one, which type of song should they select? Now I am not that sure anymore. It is still a very good song and the 3Js give a very good performance, but the line up in the second semi final is so strong that this might fail though. 
4) Belgium – Witloof Bay – With love baby
I still cannot get used to this song. I remember I was already disappointed when it won the Belgian final. All band members are excellent singers, no doubt, but this is just a type of song which usually does not work at Eurovision. I rather see it finishing last than qualifying for the final.
5) Slovakia – The Twiins – I'm still alive
If this was a beauty contest, the Twiins would probably have good chances to win, but this is still the Eurovision Song Contest. Vocally they are even better than I expected them to be and the song is very modern, but in some kind also quite repetitive to the end. It might be at the borderline to qualify.
6) Ukraine – Mika Newton – Angel
This is a very well produced and well arranged pop ballad. Especially the sand artist creates a special atmosphere with her beautiful pictures. During the last chorus I heard some vocal problems, but this should not stop Mika from qualifying.
7) Moldova – Zdob si Zdub – So lucky
Quite a weird song from Moldova which is not at all my taste. It is completely unmelodic and it cannot be improved by wearing these hats and the attractive lady on the unicycle. If this qualifies, then only due to people who like these "fun songs". In my opinion we won't see this again on Saturday.
8) Sweden – Eric Saade – Popular
When I was asked about my personal favourite and I said Sweden some people rolled their eyes. I stand by my opinion. Eric is for sure not the best singer in this competition, but the song is catchy and sticks in your mind after hearing it. The choreography works well, although the glass cage did not break this time. The camera work did not seem very suitable either. Let's hope this will work tonight, so that Sweden can reach the final again after last year's failure.
9) Cyprus – Christos Mylordos – San Aggelos s'agapisa
I like this song. It starts out so typical Greek and then turns into rock. The stage performance is very good and the vocals as well, but I fear this might not be very memorable to most of the audience.
10) Bulgaria – Poli Genova – Na inat
This song starts out so beautiful and then turns into this powerful rock ballad. Poli's voice sounds very well on the screen. She definitely belongs to the best performers in this line up. So it might be Bulgaria's second participation in a Eurovision final.
11) Macedonia – Vlatko Ilievski – Rusinka
In my opinion this belongs to the weakest entries the former Yugoslav Republic of Macedonia ever sent to the Eurovision Song Contest. It might work well at a party, especially after having some glasses of Vodka, but I am sure this will be sent right back to Macedonia after the announcement of the ten qualifiers.
12) Israel – Dana International – Ding Dong
It is always a risky thing for a former Eurovision winner to participate again because you can actually not score a better result. And if you enter again, you should at least have a good song, but this is not the case for Dana. It is a dance song, but so flat without any highlights. The vocals fit very well because they are also flat. I fear this will be a Eurovision final without Israel.
13) Slovenia – Maja Keuc – No one
This is the most beautiful song of the whole contest – in my opinion. It is so melodic and Maja's voice is so powerful. This must be Slovenia's second qualification since the introduction of the semi finals and if so, I also see it rather high in the overall ranking.
14) Romania – Hotel FM – Change
Hotel FM delight us with a very fresh and professional performance of their entry. You can neither criticize the vocals, nor the choreography. Since the introduction of the semi finals Romania managed to get through every time and I do not worry they will also do this time.
15) Estonia – Getter Jaani – Rockefeller Street
This song is so catchy and cheerful. When I hear it, I usually cannot stop moving or even singing with it. The choreography fits very well, although they let out a short part of it during this rehearsal. If nothing goes wrong tonight, we should see this again on Saturday.
16) Belarus – Anastasiya Vinnikova – I love Belarus
There are big differences in the opinions about this entry. Some people like it a lot, other hate it. The chorus is definitely so catchy that you mostly cannot avoid to sing along once you listen to the song. On the other hand Anastasiya's voice sounds quite weak during the verses and the song might be too patriotic. I fear this will not qualify.
17) Latvia – Musiqq – Angel in disguise
This is a very modern pop song and the young band gives us a very confident performance. I hope they will collect enough votes, so that we will have the pleasure to watch them again on Saturday.
18) Denmark – A Friend in London – New tomorrow
There are some people who think this might be the winner. So will it be Copenhagen in 2012? It is definitely a well produced and well performed song. I am sure this will qualify and will also score a high position in the final, but I cannot see this as the winner.
19) Ireland – Jedward – Lipstick
This is finally the last act to perform of both semi finales. It is a very controversial act and everybody knows that Jedward really cannot sing. One problem might also be that their red outfits do not come across the screen very well due to the red backdrop. Anyway, the song and the performance are catchy and funny, so I am sure they will make it to the final.
So after the last dress rehearsal hese countries could go to the final according to my opinion:
Bosnia & Hercegovina
Ukraine
Sweden
Bulgaria
Slovenia
Romania
Estonia
Latvia
Denmark
Ireland