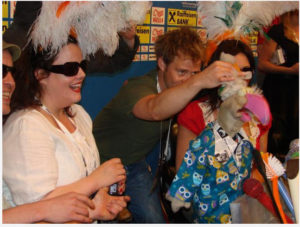 Today was the last realistic opportunity for delegations to experiment with new ideas in their acts before the start of the full show rehearsals tomorrow.
Georgia opened the day's events and Diana wore her outfit for Thursday night's 2nd semi-final. Black is the order of the day for herself and her backing artists. In a certain light, they all look like they are wearing bin bags. Csézy from Hungary also wore the dress she will be wearing on Thursday. The top half is white and the bottom half is black with a hint of purple. She was in fine form again and if performances are a factor, Hungary will be a strong contender for a place in the final. Csézy said in her conference afterwards that Hungarians just want her to represent them well, and that was more important than a good placing.
Malta was next on stage and Morena also chose to wear her contest outfit. The shiny bits you will see on her clothes and boots are mirrors which are supposed to reflect (get it?!) being in a place full of spies. Cyprus is carrying on the now traditional mid-routine strip. Evdokia starts in a full length silver dress and soon removes it to reveal a much shorter red dress. Well, she needs something to distract from how messy the song is.
Macedonia had a better rehearsal today than the first one. The song will be sung in English but has been recorded in six languages, which of course meant shooting six videos. Portugal's record in the contest is not a good one. They hold the dubious honour of being the oldest country never to have won and they have never qualified for the final since the semi-finals were introduced. Many think there is more than a good chance that could change this year. The song is coming across well and Vania certainly gives it a strong performance.
Barely 24 hours after their first rehearsals, the big 4 returned to the Beograd Arena today for their second go. As was the case yesterday, the UK was first of the four and Andy Abraham again delivered a performance to give his country confidence in his ability to sell the song, although any salesman is hampered if the product isn't very good.
No Angels were without one of the quartet today as Jessica has a virus. She was replaced by a stand-in for the benefit of camera shots. The Germans were very happy with their rehearsal and ended the conference by singing "Still In Love With You", one of their most well known songs.
Possibly feeling the effects from yesterday or perhaps he'd just played 18 holes,  Sébastien Tellier entered the stage in a golf buggy. He told those present at his conference that he is going on a world tour after the contest.
Spain has created a lot of interest this year, in a year when nonsense songs feature more heavily than any previous contest. As previously reported, only time will tell how well the song travels outside Spain. It's amusing to watch so who knows?
Bringing the day to a close was the hosts, Serbia. Jelena was very good and was much appreciated by the inevitably large crowd.
So, that's it, no more regular rehearsals. Tomorrow is the start of the full run through rehearsal of the first semi-final. Everyone gets only one chance to perform their song and has to wear full costume.
Links