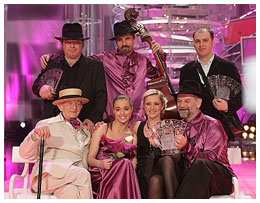 Despite being neighbours it probably cost more than 75 cents to get from Croatia to Serbia, but that is the way Kraljevi ulice & 75 Cents will be going in May after winning a tiebreaker in the 2008 edition of Dora, the Croatian national final.
After being close to winning in both 2006 and 2007 the number three must now really mean luck for Kraljevi ulice & 75 Cents who finally could benefit from their popularity in winning the ticket for Belgrade with the song Romanca. They will be competing in the second semi-final of the 2008 Eurovision Song Contest hoping to bring Croatia into the final so it can try to copy their neighbour Serbia in winning the whole contest.
Kraljevi ulice & 75 Cents clearly won the semi-final Friday evening, but in the final they had a bit more problems as the result that consisted of both televoting and jury points ended in a tie between them and Antonija Šola, but in such a case it is the jury points which counts the most. The jury had awarded Antonija with 15 points while Kraljevi ulice received 16 points and was thereby ready for Belgrade.
For the fans watching the not too stable web cast or was lucky to have the right TV channel the show offered an opportunity to see the three times Eurovision winner Johnny Logan perform. Dora took place at the same night as the Irish final and it seems quite clear that the comment "Turkey should be eaten at Christmas, not being listened to in Eurovision" is not about the country Turkey!