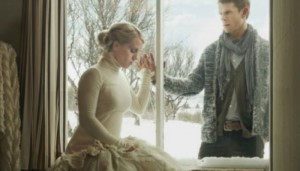 Icelandic representatives have presented today the official videoclip together with the final version of their 2012 Eurovision Song Contest entry. Mundu Eftir Mér has been translated from Icelandic language to English under the title Never Forget.
This year's Icelandic entry will not be sung in their national language. Greta Salóme, performer and also composer of the song, has been working on this new version since they won the Icelandic national selection Söngvakeppni Sjónvarpsins trying to maintain the spirit of the original Icelandic version.
The video, directed by Hannes Þór, has been filmed in a beautiful snow-covered landscape in Iceland. Two children, aged approximately 10 years of age, who are much like the two singers are the stars at the beginning of the video. We can also see the members of the Iceland Symphony Orchestra and Greta playing the violin passionately. Jónsi is dressed in casual winter clothes and Greta wears an elegant white high neck dress.
You can listen to the final version of the song and watch the video below: