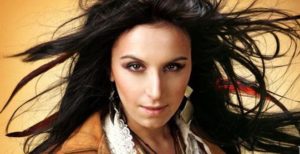 Yesterday Ukraine decided to go for a second attempt in finding the participant that will represent them at the Eurovision Song Contest in Düsseldorf after speculations of voting fraud. A new voting would take place Thursday, but only two acts are left to vote between after Jamala withdrew today. 
Last year Ukraine needed three attempts before they were finally able to send Alyosha off to Oslo from where she returned with a 10th place for the song Sweet People. On Thursday the country would try for the second time to pick this year's Ukrainian entry. Three singers were supposed to take part, but one of them; Jamala today decided that she will not be a part of it anymore.
On her website Jamala states: For me your trust is the most precious thing. I do not want to have nothing [anything] in common with manipulations, corruption and ambitions of certain personalities, regardless the interest of those who are covering them.
She do also use the oppertunity to say a thank you to those who voted for her and to make aware of her own result, which has not been confirmed: Voting results are well known to everyone. I'm happy that 3 times more people voted for me than for the artist, who won the first place. My gratitude for those who believed in me and supported me is endless. 
Jamala ends her statement by wishing good luck to the one who ends up representing Ukraine at the 2011 Eurovision Song Contest. As things stands right now it will be between Mika Newton singing Angel and Zlata Ognevich singing The Kukushka. Mika won the first national final Saturday, but afterwards the result was questioned due to a suspecious voting pattern.
You can read Jamala's entire statement on her website.