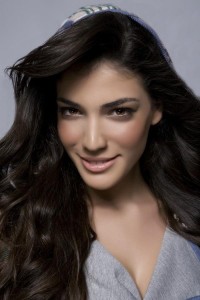 There have been rumours in the media that the Cypriot participant, Ivi Adamou, has withdrawn from Eurovision in Concert after cancelling her attendance to the London Eurovision Party. We are exclusively informed by the broadcaster that there's no danger about her participation in Baku.
After cancelling her attendance to the London Eurovision Party, Ivi Adamou has withdrawn from the Eurovision in Concert event which will be held in Amsterdam on April 21st. The main reason for the cancellation has not been confirmed yet but this situation creates many question marks in viewers' head as the participating song La La Love is anticipated to finish in one of the higher places. EuroVisionary has made detailed research about what is happening in Cyprus:
Last week, the news spread through the Cypriot and Greek media that the broadcaster CyBC was having financial problems which caused the station to go off-air due to the broadcasters' budget allocation not being approved by the Cypriot parliament. Then the organisation Cyprus State TV staff unions announced further action in protest at not receiving their pay cheques for March, after parliament delayed for a week the approval of its budget.
The official announcement about the latest situation came from a spokesman from the CyBC Eurovision team; she said that more mind games are coming from parliament. She also added that although she has worked for the broadcaster for 30 years and considers it as home, she is tired of the political games. On the other hand, escdaily.com reported that Cypriot commentator Melina Karageorgiou commented also on the issue via social media saying; "the political parties have postponed the discussion concerning CyBC budget — NOT PARTICULARLY for Eurovision, the yearly budget of CyBC, overall — for a week. We don't know which amount the parliamentarians will approve in the end, and it looks like the budget is severely cut, so yes, the Eurovision project may be affected, unfortunately".
We are informed about the last situation in CyBC, it shows that the broadcaster currently cannot afford to show Formula 1 and EURO 2012 for now but the participation in 2012 Eurovision Song Contest won't be in danger at all.
Therefore, the organisers of the Eurovision in Concert, said that the concert won't be affected from this cancellation as there are replacements for Cyprus, including Portugal and a total of 24 countries will be attending the event. The concert will take place in Amsterdam, The Netherlands, on April 21st.