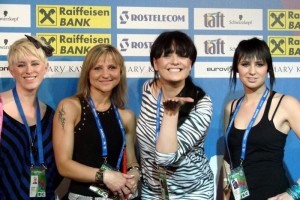 Eurovision Song Contest winner Alexander Rybak is having success on the chart in Ireland where also the local hope Sinead Mulvey & Black Daisy is doing well. Icelandic Yohanna is represented on the single chart as well – and an ABBA album can soon celebrate 100 weeks on the Irish chart.
With Alexander Rybak making it to the charts in many European countries it doesn't come as any surprise that Ireland is no exception. He has entered the single top50 on second position, the highest debut, with his Eurovision Song Contest winner Fairytale.
Sinead Mulvey & Black Daisy represented Ireland in this year Contest, but failed to qualify for the final just like last year's Irish hope Dustin the Turkey. This however doesn't stop their success on home field and with three weeks on the chart they are this week's #6.
Yohanna made her country proud when she finished second in Moscow. Just like Alexander Rybak she is having success on the charts in various European countries. In Ireland she is new on the list as #28.
Irish songwriter Ronan Keating was one of three songwriters behind the Danish entry for the 2009 Eurovision Song Contest, Believe Again, sung by Brinck. He didn't go to Moscow as he was busy with other projects including his new album Songs For My Mother. This album is to be found as #22 on the Irish album top75. On the same list is one more Eurovision Song Contest connection as ABBA's Gold – Greatest hits is placed as #68 after a total of impressing 97 weeks on the chart.