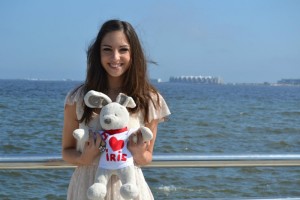 She didn't manage to qualify for the final of the 2012 Eurovision Song Contest, but that hasn't stopped the career of the young Iris representing Belgium this year. Her schedule for the next few months reveals a busy summer, which also includes a performance with Tom Dice.
The Belgium broadcaster has internally selected 17 year old Iris to represent them at this year's Eurovision Song Contest. A national final containing two songs gave the TV viewers the oppertunity to select the participating song. They chose Would You? as the Belgian entry for Baku.
In the first semi-final Iris finished 17th with 16 points and as such had to leave the contest without participating in the final, which Belgium has only been qualified for once in the past 8 years. That was in 2010 with Tom Dice singing Me And My Guitar. Iris' summer schedule reveals that she on the 29th of July will be performing together with Tom Dice at the Suikerrock festival.
The entire summer schedule for Iris:  
23/6 – Hassselt 16:00 
Belgacom event
24/6 – Heusden-Zolder 14:00
Benefiet 't Weyerke
24/6 – St Truiden 17:30
Joy Joy kinderfestival
27/6 – Wachtebeke 17:45
Popeiland
28/6 – Mol 10:30
Pennenzakkenrock
TV 29/6 – Ieper
Vlaanderen Muziekland
30/6 – Opwijk 21:15
Singlepop
TV 7/7 – Tienen
Vlaanderen Muziekland
8/7 – Vorselaar 16:00
Berkelheide
10/7 – Balen 22:00
Feesttent Schepskermis
27/7 – Herentals 21:00
Herentals feest
29/7 – Tienen 14:30
Suikerrock (with Tom Dice)
TV 17/8 Radio 2 Zomerhit
Below you can see Iris' performance of Would You? at this year's Eurovision Song Contest in 3D. For the best experience we recommend watching it with a pair suitable 3D glasses, but should you want to this can easily be turned off in the player for regular 2D watching.