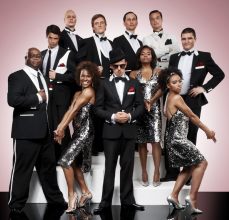 The interval acts for the 2011 Eurovision Song Contest have been revealed.  When everyone is voting the acts to keep us entertained are Jan Delay, Cold Steel Drummers and Flying Steps.
The Cold Steel Drummers are formed of 20 members from North Carolina, USA.  The drummers entertain with tricks and lots of dancing.  They will perform in the first semi final.
The Flying Steps are from Berlin, Germany.  The perform hip hop, house and the also do break dancing.  The group have been world break dancing champions on 4 occasions.  They will be the interval act in the second semi final.
Jan Delay is a member of the Disko No. 1 band.  His concerts are very popular.  His first album was with the group, Beginner.  This was released in 2001.  His type of music is normally soul and funk.  His latest album, Wir Kinder vom Bahnhof Soul, went to number 1 in Germany.