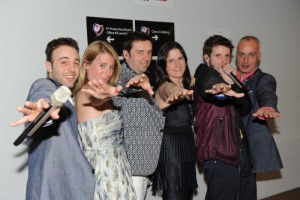 Belgium rehearsed today with a rare attempt at a capella.  Witloof Bay are taken from all areas of Belgium, and this show of unity was much in evidence.  But what would Europe make of it?
The arena had emptied a little for Belgium's first rehearsal.  In the past a capella has not always fared very well.  Witloof Bay gave an interesting interpretation of their song during various run-throughs.  With effectively six lead singers, it took a while for the sound check to be completed.  Among the pieces sang during the individual sound check was a very credible interpretation of Torn by Natalie Imbruglia, and some very impressive beat-boxing.
Witloof Bay performed in costume, which showed slightly individual styles.  The girls were in contrasting short dresses, while the boys were all in suits.  There was a certain amount of choreography which was very slick, and they made effective use of the cameras.  Sound-wise, there were a few problems picking up the sound from the leading performers.
In all, they're making the best of arguably one of the least-fancied songs in this semi-final.  They are all very good individual singers, and very good at what they do.  Whether Europe agrees with what they do is another matter entirely.
We'll know more on Friday.