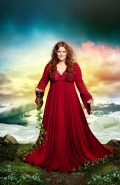 Hera Bjork was polished and professional in her rehearsal today. It may not be everyone's cup of tea but no one can deny that they know what they want and they're getting it.
Hera is still in the big red dress and her three female backing singers are also in red. The two male singers are wearing black suits with red ties. You'll recognise one of the guys as the Icelandic representative from 2001.
The stage presentation is very like the 2008 Icelandic entry, which works well for the entry. The camerawork is pretty good too. There's only one problem I have and that's that the on stage cam shot during the postcard. There's a really scary shot of Hera which does her no favours.
This one is going to qualify and won't come last in the final but after that I'm saying nothing.