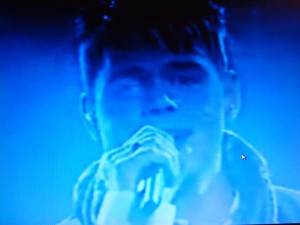 The 2nd semi final took place tonight to determine which 2 acts would qualify for the final on Saturday 6 February. There were 5 songs again this week.
Menn Ársins – Gefst ekki upp – this song is a rock ballad by a male duo. Good reaction from the audience.
Hvanndalsbræður – Gleði og glens – this song also went down well with the audience. A country style lively song.
Sigrún Vala Baldursdóttir – I believe in angels – the only girl in tonight's show. This is another nice ballad. Very well performed.
 
Jógvan Hansen – One more day – this big ballad went down very well with the audience with lots of cheering. This was written by last year's winning composers.

Edgar Smári Atlason – Now and forever – another big ballad and this also went down very well with the audience.
So after the voting the 2 songs to make it to the final are Jógvan Hansen and Hvanndalsbræðu.