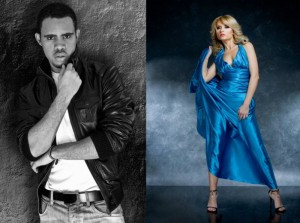 After coming second in the Romanian national final Anthony Icuagu and Ianna have decided to try to see if they have more luck in Moldova. Their entry, that is composed by Andy Platon and Anthony Icuagu himself, is exclusively available for EuroVisionary's readers.
As Anthony Icuagu said in an interview with Radarmedia EuroVisionary had a little thing to do with the duo now taking part in the national selection in Moldova: The whole idea about our participation in Moldovan came from EuroVisionary's journalist Ciprian Istrati. In the begining we thought he was joking, but it turned out to be a serious idea. I thought a little of the benefits and chances to win and concluded, that I have nothing to lose. 
The other half of the duo, Ianna Novac, that is actually born in Chisinau, Moldova and adds that it will be a big oppertunity for her to represent her own country.
Their song for the Moldavan selection is called The Cave Of Life and is is the story about a Romanian love myth that came from Borsec area (Miercurea Ciuc). The myth says, that there is a cave with an old love history. People went to it to find their true love.The song is mainly composed by Anthony Icuagu himself while Andy Platon helped with the orchestration. The lyrics also written by Anthony tells about this myth and the song is trying to give people the energy to dance guided by the hands of love.
The song is brand new and made specific for the Moldovan selection after Eurovisionary's journalist suggested it. They duo is optimistic and hope that they will have a chance to sing the song in the Moldovan final. There is still one more cut to be made before they know if they are for a serious chance to represent Moldova in the 2011 Eurovision Song Contest.  
Compared to Open Your Eyes, their entry from the Romanian selection, The Cave Of Life is totally different but they say that one thing they have in common is that both are equally very difficult to sing live.
EuroVisionary's readers can listen to the song The Cave Of Life as it is in its submitted demo version. The song will be changed a bit for the national final should it make it through.