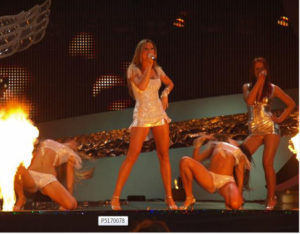 Exactly a week to go before the Eurovision final and the rehearsals and press conferences continue apace. This morning, Tereza Kerndlova was the first to step on to the stage. She and her backing singers and dancers looked splendid in their predominantly silver outfits.
Everything seemed to work well for the Czechs, who went on a relaxing boat trip in the days since their first rehearsal. Ruslan Alehno was next with the revised and possibly improved (depending on your point of view) 'Hasta la Vista'. With him on stage are one backing singer, four backing dancers and five baubles!
Lock up your valuables, here come the pirates. The Latvians were again in full costume and tried out a new effect. One of the backing singers looks through a telescope and the video screen next to the stage shows what she 'sees', some sharks swimming in the sea around them. Croatia's Kraljevi Ulice & 75 Cents were next on stage. They also chose to wear their outfits to be worn in the semi-final. 75 Cents is in a white suit and the others are possibly tempting fate by wearing black.
The Bulgarians declared themselves pleased with their rehearsal and announced that they will be holding a party on Monday with the Maltese and Belarusian delegations. Birthday boy Simon Mathew (he's 25 today) was in decent form and felt that today's rehearsal was better than the first.
The five countries already in the final rehearsed for the first time today, starting with the UK. Andy Abrahams gave a good performance of 'Even If'. Sensibly, he has been given simply a backing band to help him out. Other delegations could be accused of trying too hard to put on a show and detracting from the song. What will he consider to be a successful participation in the contest? "Success for me is getting in to the top ten. I think the song is good enough to do that. I hope that people will vote, enjoy the song and like what I'm doing."
No Angels from Germany clearly don't feel that four female voices are enough as they have two female backing singers on stage with them. They wore their outfits for the contest today when they rehearsed, two of the ladies are in blue, and the other two are in purple. They were generally happy with the rehearsal. They also told the press that a 'Best of' album will be released soon after the contest and that the contest is the highlight of their career so far.
France next and Sébastien Tellier seemed at home on the stage, even if he seems to be trying to look like the Jesus. Something tells me it will take more than 'Divine' intervention to see France in the top half of the scoreboard. In a move that has caused controversy in France, the song will be sung entirely in English. Sébastien said this is because English is more suited to pop music than French.
Good news if you like Spain's 'Baila El Chiki Chiki', bad news if you hate it; the song is now three minutes long, extended from the 1.20 version which won the Spanish selection. While the song and performance will be no doubt amusing if you're Spanish, it remains to be seen how well it will travel across Europe. It is fun to watch though, so….. Rodolfo Chikilicuatre said that his song is liked buy all generations.
Hopes are high in Serbia for a second consecutive victory, with some justification. They are defending the title with a classy song and singer. The presentation is understandably simple but effective. Her press conference was absolutely packed and she was given a very warm reception. During her conference, she not only sang 'Oro', but also other songs from her repertoire.
A hectic end to another busy day, and it all starts again tomorrow at 11.00 local time with Georgia.
Links